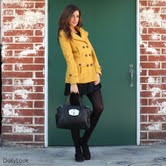 DailyLook makes it easy to shop for the latest fashion looks through a fun yet incredibly easy shopping experience...for $100 or less.
Los Angeles, CA (PRWEB) November 22, 2011
DailyLook.com, a new flash sale site, is innovating the online fashion space by offering stylized looks on sale for $100 or less. Each look is carefully curated by professional stylists who scour top boutiques for the latest fashion finds and trends.
DailyLook was created to solve a problem that every fashion shopper has experienced. How do I create that celebrity look without breaking the bank and spending the whole weekend shopping at different stores? DailyLook makes it incredibly convenient, fun, and affordable to buy the latest looks.
"Fashion magazines have highlighted stylized looks for years, even listing stores and sites where fashion seekers can purchase individual items. But it's not easy for people to actually buy these pieces and create an entire outfit. It takes a lot of time and is expensive. DailyLook provides a solution by offering trendy clothes through fun yet incredibly easy shopping experience to fashion seeking women," said Brian Ree, Founder and CEO of DailyLook.
Unlike traditional online clothing retailers, DailyLook does not offer shopping categories, such as tops, bags, accessories, on their website. Instead, there is only "Today's Look" and "Yesterday's Look", which customers can click to purchase an entire outfit or individual pieces. Customers have quickly embraced this new shopping experience due to its simplicity and convenience.
Within 30 days of beta launch, DailyLook has gained over 30,000 Facebook fans, putting the site on the map for many fashion clothing lovers. Its success has also captured the interest of top fashion/beauty youtubers such as RAEview. DailyLook's feature has been viewed more than 15,000 times in less than a week.
For Cyber Monday, DailyLook will feature over 20 different looks on sale for one day only. Join DailyLook for free to see what all the online fashionistas are talking about.
How It Works
1. Individuals sign-up to become a free member of DailyLook.
2. Each day, members receive an email with a new look on sale. Members can expect looks such as "boho chic" to "downtown night out". Each look goes on sale for 36 hours.
3. Members can purchase an entire outfit (comprised of a top, bottom, shoes, bag, and accessories) or individual pieces at DailyLook.com.
About DailyLook
DailyLook.com is a fashion flash sale site that offers a professionally styled outfit each day for $100 or less. Each look is curated by stylists and available on sale for 36 hours. Unlike other flash sale sites, DailyLook offers an entire look, which includes a top, bottom, shoes, bag, and accessories.
For more information about DailyLook, please call Michelle Gonzalez at (213) 223-7671 or email her at pr(at)dailylook(dot)com.
###