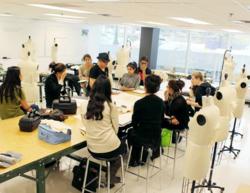 RCC Academy of Design Graduate Aroosh Choudhury was awarded the top prize in the 2013 TÉLIO Design Competition.
Toronto, Ontario (PRWEB) February 13, 2013
TÉLIO, one of North America's leading textile distributors, hosts a yearly competition for fashion design schools across Canada. Aspiring fashion designers interpret a unique theme into their own design using only a selection of fabric supplied by TÉLIO. Twenty-five finalists are chosen from twenty-two designs schools to present their designs at Montreal Fashion Week and for a chance to win one of five scholarships.
Aroosh Chaudhry and Alanna Klatt qualified as top twenty-five finalists. The Fashion Design and Fashion Marketing and Merchandising Program Chair Paula Shneer and Faculty member Keith Richardson accompanied them on an all-inclusive trip to Montreal.
Aroosh Chaudhry was awarded top prize from a panel of acclaimed Canadian Fashion Professionals. Her prize includes $5,000 sponsored by BLG, Borden Ladner Gervais, as well as licenses and private training with innovative textile software by Lectra, valued at $27,400.
After completing a degree in Finance, Chaudhry chose to follow her passion in the exciting industry of Fashion Design. Upon enrolling at the Academy of Design, she learned that students are encouraged to participate in industry related competitions and networking opportunities.
The Fashion Design Diploma at the Academy of Design is a hands-on, intensive program that blends creative and technical skills training to prepare graduates for work in the field.