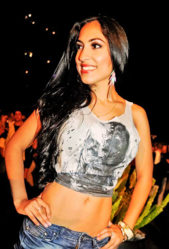 "We were excited to see the creativity they took into their own hands and ran with it. While the t shirts are pretty creative on their own, it was fun to see they have the fashion models had their own ideas." – Alex Wood of Design By Humans
San Diego, CA (PRWEB) July 31, 2012
The fashion show featured the new Dark Knight Rises and new graphic shirts and a collection of graphic tee shirts from Design By Humans. The fashion models from the San Diego area were given a few t shirts to see what they could do with them and hit the runway with a smokin' hot style. The tattered tees were custom cut and twisted up to fit each unique style. Appearances by Batman and Wolverine accompanied the models on the rooftop of Stingaree with the beautiful San Diego backdrop.
"We were excited to see the creativity they took into their own hands and ran with it. While the t shirts are pretty creative on their own, it was fun to see they have the fashion models had their own ideas." – Alex Wood of Design By Humans
The Comic Con weekend started with the street team roaming around downtown San Diego for a while, migrating east to check out the vintage Dark Knight Rises batmobile collection. After gawking at all the awesome memorabilia, they grabbed some chow at the San Diego mall and began prepping the tattered tees for the models. The time came for the runway photo shoot and boom, they killed it. Epic Dark Knight Rises T Shirts on fashion models with a San Diego skyline in the background was nothing short of amazing.
At the end of the show, a full-on batman in armor romped across the catwalk to close the show. There were cameras shooting against the backdrop and down the runway all night. The highlights can be see on the Design By Humans blog.
The last day of comic con Design By Humans spent the day giving out free tee shirts and promoting the new Dark Knight movie. When not hard at work the street team spent time fan-gazing at the amazing comic-con displays and roaming through throngs of comic-enthusiasts larping in full comic regalia.
Design By Humans has been primarily and online brand, with few promotional events or sponsorships. The success of the event will push Design By Humans to work more in the fashion and design communities throughout the world. The smiles, the creativity, the fashion and fun made Design By Humans a real brand.
There are future opportunities to work with future events and sponsorship opportunities. Contact marketing(at)designbyhumans(dot)com for enquires about promotional events. It's a way of thanking the DBH community and recruiting new Humans to join the t shirt design network. Let the marketing team know if there is a fan base in your community to host or sponsor a fun design, or fashion event.
Design By Humans would like to the event promoters at Comic Con, Stingaree and the city of San Diego for the opportunity to though such a great event.