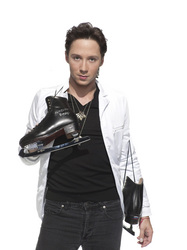 In order to maximize our support of these fine organizations, we've decided to revise our scheduling
Lake Forest, IL (PRWEB) June 24, 2010
The "Crème de la Crème 2010" fashion event, originally set to begin this Saturday, June 26, and to feature world-renowned figure skaters Johnny Weir and Alyssa Czisny in the first runway fashion show on ice, is being rescheduled. The event, hosted by upscale bridal boutique "Le Salon" of Royal Oak, will be held at a later date that will be announced soon, according to event organizers.
Le Salon owners Alexis Williamson and Jonas Pascua said:
"Crème de la Crème is Le Salon's biggest event. It is our intent to share the latest in exclusive bridal fashions with our customers, vendors, and the media in a way that aligns with our socially conscious mission. This year we are thrilled to have elite figure skaters Johnny Weir and Alyssa Czisny in our show, which will benefit several charitable organizations. In order to promote the event to its fullest and thus maximize our support of these fine organizations, we've decided to revise our scheduling."
In a statement, Johnny Weir said, "I want to thank my fans for their continued support, and I am very much looking forward to performing at Crème de la Crème."
Event organizers are working to determine the new date. Tickets already purchased will be refunded or transferred to the new show date. For more information, please visit the event website at cremedelacreme2010.com.
###