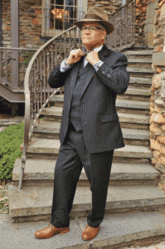 We really want to highlight the fact that clothing is about more than just looking good; it's about assimilating into a culture and being part of the community.
San Francisco, CA (PRWEB) October 15, 2012
Bows-n-Ties.com, a San Francisco-based online retailer of men's ties, just published their picks for the 5 most promising fashion cities in America, with Winston Salem, NC taking the top honors.
"Everyone knows about the huge fashion cities in America," says the author and fashion critic Ashley Child. "New York, Chicago and Los Angeles really don't need to be highlighted as fashion capitals, because they're universally recognized as such. There are quite a few cities in the country that are perhaps not as well-known for being fashion capitals, however, even though residents in these areas are pushing boundaries with how they dress. We wanted to take a moment to highlight five cities and towns in America that deserve a bit more attention from the fashion-forward."
Each piece highlights a specific town or city, citing examples of what causes the area to stand out in the world of fashion. Bellevue, WA is highlighted for being home to young professionals who have truly figured out the business-casual look and have an excellent feel for wearing and matching neckties, for example, while Winston-Salem, NC is purported to be one of the biggest proponents of "hipster" fashion and style in the south. In addition to these cities, Irvine, CA, Boulder, CO and Charleston, SC make the list.
"We wanted to make sure that each city that made our list had its own unique look and feel," says Child. "These are cities in which a lot is happening right now, not only with fashion but many other cultural aspects as well. It should come as no surprise that every city on our list is home to a great deal of young people, as it is this group that tends to be interested in fashion and culture in general. While we of course do not want to discount older generations, we don't believe it to be a coincidence that young people make up a fair amount of each city's population."
Bows-n-Ties.com has published a great deal of article series' in the past that focus on fashion and geography. Previous pieces have highlighted some of the worst-dressed cities in America, as well as style profiles on cities located throughout the world.
"Fashion and geography tend to go hand-in-hand," says Child. "If you visit any of the cities that made this list, you're going to surrounded by a very specific look and feel that you aren't likely to find elsewhere. We really want to highlight the fact that clothing is about more than just looking good; it's about assimilating into a culture and being part of the community."
To read the entire story, please visit: http://www.bows-n-ties.com/mens-fashion-tips/wrapper.php?/archives/433-The-Top-Five-Most-Promising-Cities-for-Fashion-in-America.html