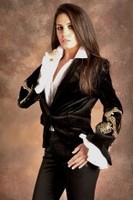 Add a quote. Said Bapst, "I am so excited for this opportunity because I have always loved the fashion trends in Nashville. It just feels right for me. I think it is important for the young female artists and singers to look edgy and look like rock stars
Washington, DC (PRWEB) October 7, 2010
Union of Angels is now sold in St. Barth, French West Indies. Thierry De Badereau, celebrated owner of La Plage and other St. Barth landmarks, has inked an agreement with Union of Angels to carry the bohemian clothing label in his Wild Side boutiques. Union of Angels is a great match for St. Barth; the effortlessly sexy style of the line fits in perfectly with the island's vibe. The line has been featured in popular fashion shows on the island, attended by well-heeled, multinational clientele, show casing Union of Angel's Summer Collection full of white linen dresses, skirts and of course the line's signature summer piece, the "Cowgirl Cool Crochet Dress". The collection's showing was so well received that one noted Parisian style doyenne purchased the "Cowgirl Cool Crochet Dress" right off the model. Said Bapst,"This is a very welcome success that the line is being so well received, because the people living in and visiting St. Barth are so stylish. I have always felt that Union of Angels is a good fit for St. Barth and now I am pleased to have that confirmed in such an immediate way."
Along with international success, Union of Angels has gained national recognition by setting its sight on the music industry. After meeting with the Senior Director of Artists and Recording and the Director of Publicity of Warner Brothers Records in Nashville, they have agreed to allow Union of Angels to dress some of their "up and coming" singers and artists in the Country Music Industry. Union of Angels has many plans in the works for the type of look they will create for these singers and artists. Said Bapst, "I am so excited for this opportunity because I have always loved the fashion trends in Nashville. It just feels right for me. I think it is important for the young female artists and singers to look edgy and look like rock stars but with a softer edge." In a coordinated effort, Union of Angels is currently researching Nashville boutiques suitable for carrying the line.
Union of Angels is an exclusive clothing label sold in Washington D.C. and St. Barth. Founded by Cynthia Bapst, the line's fall equestrian and summer bohemian styles are designed to give any woman a fresh, sexy look.
Find us online at http://www.unionofangels.com/.
###