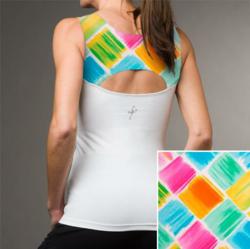 TerraFrog is well known for their exclusive, trend setting designs and styles.
Sherwood Park, Alberta (PRWEB) May 14, 2012
Women's yoga and athletic wear designer and online sportswear company, TerraFrog Clothing Corporation, launched its Summer 2012 collection this week. The collection is now available for purchase through TerraFrog's online store and at select retailers in Canada and the United States.
The Summer 2012 sportswear collection is creating a lot of buzz with clients and retailers looking for trendsetting yoga and athletic wear. TerraFrog has become 'the go to clothing designer for unique, limited edition lifestyle clothing and active wear.'
For TerraFrog's Summer 2012 athletic wear line, designers Cori and Bobbi Windsor drew from both sides of the color spectrum. The fabrics used in the summer collection range from bold colors, like wild tangerine and vivid blue, to soft muted pastels like pale mint and canary yellow.
"We are absolutely delighted with our Summer 2012 lifestyle and athletic wear collection," said TerraFrog Director, Bobbi Windsor. "We brought back our best selling jackets made from recycled plastic bottles and introduced a new jacket made from bamboo enriched fibers. Customers will also love TerraFrog's new limited edition yoga tanks and silky short sleeve tees."
About TerraFrog Clothing Corp:
TerraFrog Clothing Corp. is a Canadian athletic wear manufacturer providing unique, high quality yoga clothing to individuals and select retail outlets. TerraFrog is well known for their exclusive, trend setting designs and styles. This stylish lifestyle and casual wear company limits the number of pieces they make despite consumer demand.
TerraFrog designs can be purchased directly through the TerraFrog website or at select retailers across Canada and in New York City. TerraFrog wholesales their active wear line and yoga accessories to trendy boutiques in the United States and across Canada.