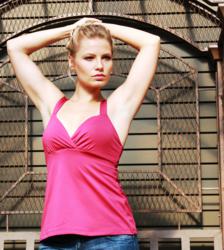 TerraFrog has become the go to clothing designer for unique, limited edition lifestyle clothing and active apparel.
Sherwood Park, Alberta (PRWEB) September 28, 2012
Women's yoga and athletic wear designer, TerraFrog Clothing Corporation, launched its Winter 2013 Sportswear Collection this week. The collection will be available for purchase through TerraFrog's online store (http://www.terrafrog.com) and at select retailers in Canada and the United States starting October 15, 2012.
The Winter 2013 sportswear collection is creating a lot of buzz with celebrities and retailers looking for trendsetting yoga and athletic wear. TerraFrog has become the go to clothing designer for unique, limited edition lifestyle clothing and active apparel.
Celebrities were given a sneak peak of the Winter 2013 TerraFrog line when it was shown at the Borgnine pre-Emmy party in September. Said TerraFrog lead designer, Bobbi Windsor, "The celebrities were absolutely delighted with our Winter 2013 collection. The stars especially loved our bamboo blend cross over tanks and our cozy jackets made from recycled plastic containers. Keep your eyes peeled for celebrities from both the big screen and prime-time television sporting TerraFrog athletic wear--Angeline-Rose Troy from the hit television show Parenthood, the beautiful and brilliant Marilu Henner from Taxi, and the fabulous Taylor Cole from the movie The Green Hornet."
The TerraFrog design team found inspiration for the collection in mature political institutions and surrounding campuses. The color palette contrasts between dark tones of granite and charcoal with deep reds, blues, and a hint of yellow injected as highlights. The 2013 line moves away from extreme styles and colors, to more classic cuts. Said Bobbi Windsor, "Past seasons saw athletic tanks getting more complicated with cut outs, multiple straps and color blocking. For 2013, we moved towards more classic cuts and nostalgic colors."
About TerraFrog Clothing Corp:
TerraFrog Clothing Corp. is a Canadian athletic wear manufacturer providing unique, superior quality yoga clothing to individuals and select retail outlets. TerraFrog is well known for their exclusive, trend setting designs and styles. This stylish lifestyle and casual wear company limits the number of pieces they make despite consumer demand.
TerraFrog designs can be purchased directly through the TerraFrog website at http://www.terrafrog.com or at select retailers across Canada and the United States.