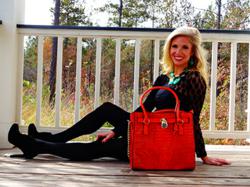 Fun. Fashion.
Accessories.
Hattiesburg, MS (PRWEB) November 25, 2012
Goldie Locks Boutique have released the newest and easiest way to shop for fashion accessories at http://www.GoldieLocksBoutique.com and on Facebook at Facebook.com/GoldieLocksBoutique.
Goldie Locks Boutique, LLC carries the latest fashion jewelry from cross bracelets to beaded collar necklaces; a full line of fashionable handbags, purses, and clutches; as well as the latest trends in pumps, heels, and boots from a variety of designers. At least once a month they will offer new products and styles.
To provide the most convenience to their customers, Goldie Locks Boutique offers their entire line of fashion accessories on their website, and on their Facebook page. Their goal is to offer customers the ability to purchase the latest fashion accessories without ever leaving their home.
The online fashion accessories boutique offers free shipping on orders over $75 and no sales tax on items shipped outside of Mississippi. For orders under $75, there is a flat rate shipping charge of $7.99 anywhere in the Continental United States.
Goldie Locks Boutique also offers a 5% discount for connecting with them on social media. When customers checkout, they are prompted with the opportunity to Like, +1, or Tweet about Goldie Locks. If customers chose to do this, a 5% discount is automatically added to their cart on the checkout page.
For the security and comfort of their customers, Goldie Locks Boutique offers PayPal checkout. Customers can use an existing PayPal account, or simply checkout using their credit cards through PayPal.
For more information on Goldie Locks Boutique please visit http://goldielocksboutique.com, Facebook.com/GoldieLocksBoutique, or email support(at)goldielocksboutique(dot)com.