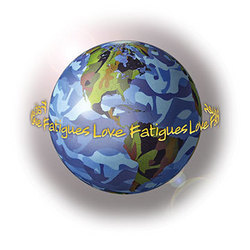 I'm thrilled to have the opportunity to be on the program and to discuss the causes closest to my heart.
Los Angeles, CA (PRWEB) September 15, 2009
On Tuesday, September 22nd, artist Seamus McGovern, the creator of Love Fatigues clothing (www,lovefatigues.com) will appear on the live broadcast of CU@USC, the nightly talk show filmed at the University of Southern California and aired on channel 36 in Los Angeles at 6:30 p.m. every Monday through Friday.
McGovern's appearance on the show will include his unveiling of a new kind of online social network designed to bring peace minded people from around the globe together while transcending language barriers that often inhibit communications among people from different countries and cultures.
McGovern said, "I'm thrilled to have the opportunity to be on the program and to discuss the causes closest to my heart." He added, " I look foward to telling the public about some of the exciting and innovative initiatives Love Fatigues is undertaking as a company to actively spread messages of love and peace around the world." McGovern will also be joined on the set of the thirty minute program by Love Fatigues' co-founder Dan Johnson.
About Love Fatigues
Love Fatigues was born on the beach of a small African island when New York artist Seamus McGovern envisioned the image of a man and woman embracing hidden in the design of a homeless man's camouflage jacket. While the image turned out to be a play of light, McGovern saw it as inspiration to create a new camouflage that promotes Love and World Peace. Love Fatigues seeks to revolutionize fashion by challenging pre-conceived notions about war, humanity and peace, with Love as the underlying answer. The company's innovative line of Images Infused camouflage clothing, along with other wearable art, enlivens both body and spirit. Love Fatigues is an active supporter of a number of charities that promote Love and progress for humankind around the globe. More information on the company is available at http://www.lovefatigues.com.
Media Contact:
Amy Hesser
Hesser Communications Group
amy(at)hessercommunications.com
312-933-8324
###