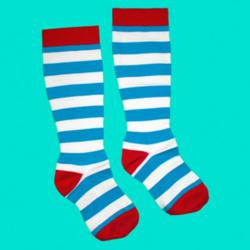 Compressions socks were made of boring colors and didn't have any patterns. They were also too tight around the toes and were a pain to put on
Washington, D.C. (PRWEB) May 31, 2013
Entrepreneurs are constantly on the lookout for untapped market segments in existing markets. Nabee Socks, lead by entrepreneur Brian Park, has successfully identified a niche market in the field of compression socks. Prior to the 2012 internet start-up's conception, compression socks got a bad rap for a trait that Nabee Socks despises; they were boring. While compression socks had gained popularity among medical workers, athletes, desk-job employees and other professions, they had never developed into a particularly attractive commodity.
"Compressions socks were made of boring colors and didn't have any patterns. They were also too tight around the toes and were a pain to put on," Park recalls. He saw an opportunity where previous compression sock providers had faltered. Park identified and addressed the issues with current compression sock providers and opened Nabee Socks to provide others with compression socks that are functional, fashionable and fun.
You can tell by simply visiting the Nabee Socks website that their socks are designed with unprecedented color combinations and patterns. The four available styles jump out at you and are fashionably distinguishable. Nabee Socks has accumulated a surprising amount of reviews for a company that is just months old. One of the compelling reviews features an athlete reviewer who wore a pair of the socks in a race she was participating in. In her review of Nabee Socks, she explains how she had a friend watching the race. While the friend did not see her running in the race, she did mention that she remembered seeing her socks!
While Nabee Socks differentiates mostly based on appearance, their socks come at no corresponding sacrifice to comfort. A larger opening ensures that the socks are easy to put on. More room in the toe area promotes free movement. In addition to style and comfort, Nabee Socks has a 'No Nanosilver' policy, following suit of the 21st century's "going green" movement.
Nabee Socks follows the creative concept, and it is one that should prove useful among today's fashion-conscious society. Being the first to enter a specialized market is a huge advantage and may be beneficial enough to vault Nabee Socks into the mainstream and leave boring compression socks as an item of the past.
About Nabee Socks
Nabee Socks was founded in 2012 by Brian Park, a 27 year-old surgical ICU nurse. Park worked long shifts as a nurse, wearing compression socks for increased circulation and comfort throughout the day. While he found standard compression socks useful, he realized that the socks he put on his feet each were plain and boring. Headquartered in Washington, D.C., Nabee Socks was launched to offer others the world's first fashion-conscious compression socks at no cost to comfort.
For more information, visit http://www.nabeesocks.com.