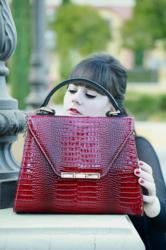 Glass Handbag offers new line and shows off multiple national television appearances.
Las Vegas, NV (PRWEB) January 29, 2013
Reveling after an exhausting December, Glass Handbag is now concentrating on a new line of designer handbags, each with the company's patented light system inside. The designer, Tamara Leuty, thought long about what she wanted to deliver this time around. The new line includes an array of lightweight crossbody's, satchels and shoulder bags. Every handbag encompasses a custom designed exterior including zebra, snake and embossed patterns in a variety of vibrant and exotic colors.
These handbag designs are available in replica snake and exotic animal prints, bright and beautiful colors, glimmering gold and silver, fantastic ostrich prints in orange, red and blue, amazing stamped patterns in a range of colors including reds, blues, and tans. Lightweight crossbody handbags in blue, pink and black made to be easy on the shoulders.
The second line from Glass Handbag includes their automatic interior light system invention. Always see what's in your handbag with a Glass Handbag. Open the handbag and the light panel turns on, close the handbag and the light turns off. All the styles, colors and designs are sexy but traditional, fashionable but classic, easy to match any outfit.
These handbags are the newest addition to the company's growing line with the inclusion of beautiful synthetic leathers for those looking for a more economical handbag. The designs by Tamara Leuty are sophisticated and edgy but classic with something for everyone.
December and January were busy months for Glass Handbag with multiple TV appearances. The luxury handbags appeared on the Steve Harvey show (12/17/2012) as the first gift on the first show of his fabulous 2012 Gift Guide. The RAVE handbag featured on the program glistened in the camera taking in all the adoring fans. Steve Harvey by NBCUniversal, Inc., Endemol USA, Deep Dish Productions of Chicago LLC, and Beautiful Day Productions LLC is a popular day time talk show covering a variety of day to day issues and has an entertaining "Ask Steve" segment.
The same week the Boss Lady black handbag and Diamond Girl gold handbag had their first appearance on the popular long time running TV game show, The Price Is Right, with Drew Carey by FremantleMedia and CBSThe Black Boss Lady and Gold Diamond Girl had their second appearance on The Price Is Right on January 22,2013. These clips are available on the Glass Handbag website and show the interior illumination of the handbags even in the bright lights of the studio.
Glass Handbag was founded to bring technology to the luxury handbag market. Their goal is to make quality handbags, satchels, totes, and evening bags with function and style. The designer handbag company sets to add function to fashion with their luxury handbags with light panel system for low light conditions.