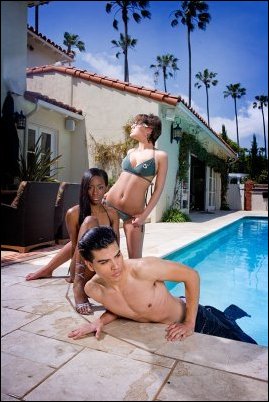 Our Love & Fame line is perfect for this summer; it features both lightweight and sheer fabric with just the right amount of screen printing
La Quinta, CA (PRWEB) July 11, 2007
Sail into the summer limelight with the new "Love and Fame" collection from Logan Milan . Between studies, Heather Ford and Logan Millican are focused on creating concepts for the perfect tee, tank top, dress, swimwear, etc. As college students, they interact daily with young fashion enthusiasts and create designs geared around these interactions. By attending separate universities, one in the Midwest and the other in the South, and residing during the summer at their home on the West Coast; they are connecting multiple styles to build fashion harmony.
"We have encountered many facets of the fashion industry while establishing Logan Milan, one key aspect that I have learned is that fashion is not only a progressive movement towards new trends, but a showcase of personality, which makes fashion so diverse and interesting," says Logan.
The Summer '07 collection represents Heather and Logan's vision to project individuality. The "Love & Fame" line forges a unique bond between personality and designs resulting in endless styles.
"Trends come and go, but our line goes back to basic styles infused with colors that help young adults live a stylish (yet comfortable) lifestyle," says Heather. "Our Love & Fame line is perfect for this summer; it features both lightweight and sheer fabric with just the right amount of screen printing," she adds.
For fans of its performance line, Logan Milan will continue to offer designs using Dri-release®, a patented blend of natural and synthetic fibers. According to both Heather and Logan, they plan to continue their vision of bringing performance wear out of the gym by adding new designs to the performance line in 2008.
Representing the "Love & Fame" line this season is up and coming actress and model Ashlyn Dixon. Ashlyn has graced the pages of major magazines and was named one of Hollywood's Hottest Under 25.
Apart from working wonders in the college market, Logan Milan has premiered its line at LA Fashion Corner and will appear in the next issue of Xcentrix magazine along with highlighting the "Love & Fame" line in a fashion show for the magazine, participate in upcoming fashion trade shows, and hosting a pool party premiering the "Love & Fame" swimwear collection during the week of the Magic Trade Show in Las Vegas.
About Logan Milan:
The Logan Milan Clothing Company was established in 2004 by siblings Logan Milan Millican and Heather Ford. Headquartered in Southern California, the company features a mixture of modern, edgy, and vintage-inspired fashion designs. Logan Milan's uses both performance and non-performance fabric. The new line "Love & Fame" consist of bold and inviting colors that are flattering to all body types.
For additional information please contact:
Logan Millican, Co-Founder
Heather Ford, Co-Founder
P.O. Box 5116
La Quinta, CA 92248
760.347.5383 or go to http://www.loganmilan.com
###