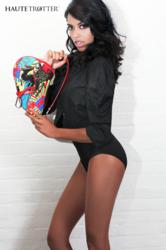 Shopping for seconds is less enticing for most women. We solve this by creating an upscale fashion destination that blends designer brands, education, and bargain hunting.
New York, NY (PRWEB) February 06, 2012
Haute Trotter, (http://www.hautetrotter.com), a new fashion start-up has emerged in the growing "seconds" market-place aiming to remarket the concept for a global audience. Haute Trotter is the brainchild of New York fashion marketing executive Ashlene Nand and, unlike other online shopping destinations, the company plans on creating an upscale shopping experience for secondary luxury items.
Haute Trotter, which sources deals from resellers and individual consigners, is building its reputation by offering high-fashion brands and handpicked items with up to 90% off retail price. The site, which launched this month, currently features a range of clothing, shoes and accessories from designers like Chanel, Christian Louboutin, Cavalli, Narciso Rodriguez, Chloe, Manolo Blahnik and more.
Unique user experiences include a 'Style Finder', which lets women create a profile noting their tastes, favorite designers, and sizes allowing Haute Trotter to hunt matching fashion items and email the shopper directly. The profiling technique also helps Haute Trotter stylists and fashion hunters keep an eye open for items and brands that customers around the world request as opposed to offering random sales like other sites.
In November, Business Insider reported that the "seconds" designer market is estimated to be a 12.5 billion dollar unregulated marketplace in the U.S. alone and recently gained traction due to the demand for luxury goods in an unstable economic environment. The industry has seen a recent boost among media with popular reality shows like Bravo's Fashion Hunters and VH1's House Of Consignment, retailers and e-tailers all trying their hand to take a slice. Consignment shopping offers women a stylish and sustainable way of shopping, preserving resources and their wallet. In today's economy lots of women are looking to "unload" pieces in their wardrobe in order to make new purchases.
Nand says, "Thanks to technology, fashion is slowly being democratized, but very little has been done to educate the global woman on the benefits of seconds. Seconds shopping is often less enticing because of the way it is presented and the fact that it's 'used', pre-owned or pre-worn. We solve this with an upscale fashion destination that blends high-fashion with bargain shopping and provides a familiar experience where you can learn about brands, be proud of your purchase and even tell your friends where you got it."
Haute Trotter is aiming for both an online and offline presence starting with a sale event in New York City during the upcoming New York Fashion Week. The event will take place on February 12th at the Gansevoort Hotel on Park Ave at 10:00AM. Exclusive events will follow in London (May), Sydney and Mumbai.
For more information about Haute Trotter please contact Wink PR at 212 614 2191.
###