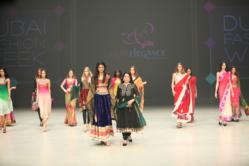 My goal is to help modern, successful South-Asian women make statement about their individuality through style and fashion.
New York, NY (PRWEB) November 03, 2011
The color and warmth of ethnic Indian fashion touched many hearts during Dubai Fashion Week® (DFW) this year. Parna Ghose of Pure Elegance had displayed her ethnic Indian collection from US. The style and richness of Indian fashion transcended its origin, ethnicity or regional influence and captured the hearts of global fashion audience.
Although South Asian fashion designers are well recognized globally, they earned their international reputation by catering to Western taste. Ethnic Indian fashion, as a result, never caught the attention of global fashion audience and traditional Indian fashion brands remained largely unrecognizable in a global context.
Thanks to a growing and successful Indian diaspora, South Asian women today are much more confident in upholding their cultural roots while making their fashion choice. International fashion audience is also beginning to recognize this trend and the distinctive taste of South Asian community. A few US-based Indian designers, like Parna Ghose of Pure Elegance, are taking up the challenge further and blending trend with tradition effectively to make Indian fashion relevant amongst international audience.
Pure Elegance is the first design house from US to get invited to Dubai Fashion Week® (DFW) to showcase ethnic Indian fashion. This marks a new trend by any major international platform to showcase Indian fashion that is created globally. Since its inception, about three years ago, Pure Elegance enjoys a strong following worldwide. It now has over thirty thousand Fans on its Facebook social-networking page and is the fastest growing South-Asian fashion brand in US.
Modern South Asian women have instant access to the latest global trends. However when it comes to picking their own style, they choose fashion that is tasteful, contemporary and practical. "My primary clientele is modern, successful South-Asian women", said Parna Ghose of Pure Elegance. "They are constantly balancing their external existences in professional life with their internal values at home, with families and in social environments. My goal is to help them manage this disparity and strike a balance through style and fashion. I think the fashion audience globally is beginning to recognize that ethnic Indian fashion is not only cool but also brings out another dimension of women's beauty".
About Pure Elegance:
Pure Elegance is a fashion brand created in US for South-Asian women worldwide. It is the first of its kind design house in the USA to create high-end Indian fusion fashion and fashion jewelry. Pure Elegance captures the essence of India and blends it with the best of contemporary West to create exquisite ethnic Indian fashions like sarees, bridal lehengas, salwars, indo-western dresses, tunics and fashion jewelry.
# # #