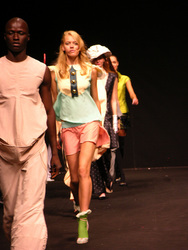 it was a great combination: studying the fashion language, visiting the shows and realizing my own project. I've had the opportunity to work in this field, inventing something mine, something unique
Milan, Italy (PRWEB) August 27, 2007
Do you want to take part to the fashion shows world? Are you a stylist? Or a model? Or just interested in discovering how a fashion show is organized and how a fashion house work?
Probably, you'll may agree that Milan is the capital of Fashion, that's why the majority of fashion shows famous all around the world concentrate here. Many famous stylists were born and currently live in Italy.
Scuola Leonardo da Vinci has organized a course for those who want to be in close contact with the concept of "Made in Italy": Italian preparatory course for fashion shows.
With this course you will learn the elements that determine the importance of Italian fashion and its history.
The first two weeks are composed of 4 daily lessons of professional Italian with fashion terminology, plus one day of lessons held by professional operator in the field of fashion.
The week after the language course is dedicated to visiting of the show rooms, shows and fashion fairs present in Milan in that specific period, such as: "Milano Moda Uomo", "Milano Moda Donna", "Moda Prima".
During the course you'll realize your own project about a fashion house, from the styling concept up to the realization of the fashion show and media campaign, the last day students will present their work to the teacher and school's management.
The next course will be held from 10 to 28 September at the same time when in Milano there will be Milano Moda Donna spring/summer 2008 (22nd September - 29th September 2007)
Lessons and visits are held in Milan, the capital of Italian fashion, Scuola Leonardo da Vinci thanks to the collaboration with fashion companies and yearly experience in the field can offers this unique opportunity to their students.
Our student Katie realized his own project called IT (In Transition - see attachment). Here her testimonial about the course: "it was a great combination: studying the fashion language, visiting the shows and realizing my own project. I've had the opportunity to work in this field, inventing something mine, something unique"
For more information visit the page on our webiste about the Italian peparatory course for Fashion shows.
# # #