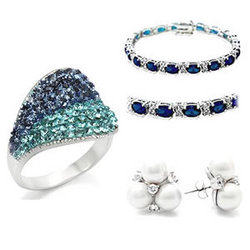 City of Industry, CA (Vocus) July 28, 2010
Take the guesswork out of matching jewelry with EternalSparkles.com's fashion jewelry gift sets. Expertly paired necklaces, earrings, and rings are now available in gifts sets that are perfect for birthday presents and other special occasions. EternalSparkles.com's exclusive gift sets include three items and start at only $29.99. Free shipping is available for orders $50 or more, and, as always, all products are backed by a lifetime warranty.
Fashion jewelry gift sets include popular bridal collections in gold or silver, aquamarine, ruby cubic zirconium, and sterling silver. For those looking to light up their wedding day with affordable, brilliant accessories, EternalSparkles.com's Bridal Silver Tone Collection Jewelry Set is perfect for the occasion. The beautiful three-piece bridal set includes a CZ engagement ring, pair of encrusted hoop earrings, and sterling silver necklace.
Furthermore, the Aqua Dream Fashion Jewelry Set is ideal for women who want to add some pizzazz to their outfit. This gift set includes faux pearl cluster earrings, a gorgeous aqua blue Austrian Crystal ring, and a 10 ct. sapphire cubic zirconium bracelet.
Eternalsparkles.com is an online fashion jewelry store that specializes in cubic zirconia, sterling silver, and other assorted cocktail jewelry. The company's wide selection of fashion rings, sterling silver rings, bracelets, necklaces, and earrings are sold at wholesale prices and backed with a lifetime warranty. In addition, Eternalsparkles.com offers a lifetime warranty for all its accessories.
Learn more about fashion jewelry by reading up on styles, tips and tricks on EternalSparkles.com's fashion jewelry blog. Also, sign up with the company's mailing list to be the first to know about the company's fashion jewelry promotions and deals.
About EternalSparkles.com
EternalSparkles.com, an online fashion jewelry store that specializes in cocktail jewelry, is located in the City of Industry, CA. The company has a wide selection of fashion jewelry from fashion rings and bracelets to bangles and brooches. With new products arriving weekly, EternalSparkles.com offers a variety of fashion jewelry sold at a wholesale price with a lifetime warranty. This press release was produced by Cybertegic.com - an Internet marketing services agency that specializes in search engine optimized press release marketing (SEO marketing).
###