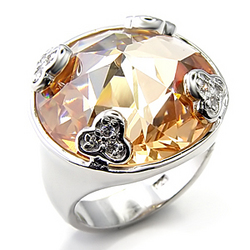 City of Industry, CA (PRWEB) January 7, 2008
Think vibrant, bold and large. Think vivid and brilliant tones that sparkle with intensity. Dainty and conservative is out, big and chunky is definitely in. These are the hottest trends in fashion jewelry today.
Rich colors, luxurious and textured designs of fashion jewelry are forging its way into the new season. What used to be a mere wardrobe accessory has now transformed into a wardrobe in itself. Fashion jewelry today is daring, yet it remains beautiful and very sensual. Now is the season for fashion jewelry to sparkle.
Eternalsparkles.com is your one-stop-shop for all your fashion jewelry needs. This is where high quality jewelry meets affordability. With a constantly updated array of fashion jewelry, fashion rings and sterling silver jewelry, Eternalsparkles.com never lacks in style.
For this bold winter season, Eternalsparkles.com proudly unveils its newest collection in fashion jewelry, fashion rings, and sterling silver jewelry. With over 300 new fabulous finds, from fashion rings to necklaces, to bangles and brooches, and earrings to bracelets, Eternalsparkles.com will always keep you abreast of the latest styles in fashion jewelry.
Neck Pieces
This season's top trendy picks are necklaces that are long with bold designs, or simple layered chains made in sterling silver. Short pieces with a vintage feel are making a comeback. Think mismatched charms and fringes for a classy, trendy look. So flaunt those sexy necklines with these fashion jewelry picks.
Wrist Enhancements
Bangles are making huge waves this season. Whether thick or thin, colorful or plain, bangles are back in style. Thin bangles, especially, are usually worn stacked together with other bangles or even used to accentuate other bracelets. With these hip and trendy sterling silver bangles, how can you go wrong?
Fashion Rings
Gone are the days when rings were just mere symbols of wealth, power, and love. Today, fashion rings are making a bold statement that speaks for itself. Fashion rings have reached massive proportions, adorned with oversized stones and colorful gems. Be fashionably forward with Eternalsparkles.com's wide collection of fashion rings.
Elegant Earrings
Chandelier earrings are now being replaced with designs that are more linear; yet still incorporate last season's favorites like clusters, dangles and fringes made which are with sterling silver. The perfect fashion jewelry choice for this season is big and bold hoops that will bring out the diva in you.
Brooches with a Twist
Old time favorite brooches are now making a comeback of sorts. What used to be just a decorative ornament for plain garments is now worn as jacket closures or locks for shawls and drapey wraps. They can even be placed at the bottom of a handbag strap. What's in are brooches with ornate and regal designs with vintage style stones set in sterling silver jewelry.
Be dazzled and be mesmerized with the latest fashion jewelry collection from Eternalsparkles.com. With over 300 hippest and trendiest designs of fashion jewelry, fashion rings and sterling silver jewelry to choose from, you can be sure that you will always sparkle in style.
About Eternalsparkles.com
The City of Industry in sunny California is home to Eternalsparkles.com, an online jewelry store that specializes in cocktail jewelry such as cubic zirconia and sterling silver jewelry. The company has a wide selection of fashion jewelry including fashion rings, bracelets, bangles, pendants, brooches, necklaces and earrings. Fashion jewelries are sold at wholesale prices with a lifetime warranty. New styles of fashion jewelry arrive weekly.
# # #