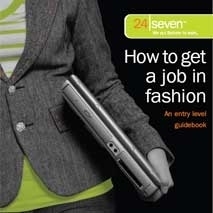 This e-book offers entry level candidates the A to Z of getting that all important first job in the competitive fashion industry
New York, NY (PRWEB) June 11, 2008
Want a job in fashion? 24 Seven, the premier placement firm for exceptional creative talent in the fashion, beauty, retail and entertainment sectors, is offering insider tips to job seekers through the free e-book 'How to Get a Job in Fashion.' The 64-page downloadable e-book is a perfect tool for beginners that want career advice on how to land a job in one of the world's most glamorous businesses.
The how to guide is packed with pointers for fashion hungry candidates that are serious about a career in fashion. Do you want to design clothes? Shoes? Textiles? Or write copy for fashion ads and sell sheets? How to Get a Job in Fashion offers applicants insights and guidance on the areas of key importance to getting the right job that best suits them and covers the following:

How to choose and build a career in design, product development, technical design, production, merchandising, retail, sales & marketing or publishing and promotion;
How to write a clear, strong resume and cover letter that gets interviews in the fashion industry and what to do when they call.
How to assemble a compelling portfolio (from creative approach to overall appearance). Sample creative portfolios included in this practical downloadable guide.
How to keep portfolios current in a fast-paced industry.
How to prepare for an interview in fashion, how to act during the interview and inspirations on staying positive, focused, successful in your search.
"This e-book offers entry level candidates the A to Z of getting that all important first job in the competitive fashion industry," said Celeste Gudas, CEO of 24 Seven Inc. and a veteran recruiter in the apparel industry. Her company has helped over 20,000 people get jobs in fashion.
About 24 Seven:
Founded in 2000, 24 Seven is an eight year market leader in the fashion, marketing, advertising, creative, beauty, retail and entertainment sectors. 24 Seven has established a reputation for placing exceptional creative talent, from entry level all the way to executive level. 24 Seven is certified as a Women's Business Enterprise by the WBENC (Women's Business Enterprise National Council) and is an honored recipient of the prestigious Ernst & Young 2007 Entrepreneur of the Year Award in the Business Services category in the Metropolitan New York area.
# # #