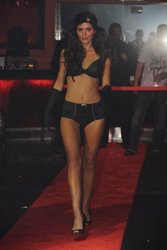 Miami Beach, FL (PRWEB) December 10, 2008
The evening was a huge success with circa 500 guests in attendance giving fashionistas the opportunity to enjoy a top-of-the-line runway show and see the latest lingerie collections from the talented Olivia Beau designers, including the newest European trends from Aubade, Blush, Carol Malony, Damaris, Fleur T, Huit, PFIFF and Rosy.
The cocktail party started at 11 p.m. with the spirits provided by Georgio Vodka, Schwartzhog, and Veuve Moisans Rose Brut. In keeping with the sophistication and elegance of the brand, trend setting hair stylists from Prive Salon and stunning runway models from 301 Model Management added an extra touch of glamour to the event.
The fashion show began promptly at 12:30 a.m. showcasing the Olivia Beau designs that feature a range of sexy styles in finely tailored garments that allow today's authentic, provocative and elegant women to express their personality, feelings and independence in a very sensual way.
The online store at http://www.oliviabeau.com, which is as trendy and sophisticated in its design as the brand, does not only sell this exclusive range, but also engage viewers in an interactive experience; allowing you to leave messages in a diary and share your beauty tips and latest fashion news with others.
To view the complete press release with photos, promotions and specials, please click here Olivia Beau Press Release.
For more photos about the Olivia Beau Launch Party and Fashion Show, please visit their gallery at http://www.oliviabeau.com. Make sure to sign up for the Olivia Beau newsletter today to be the first one to know about their special events, new collections, and exclusive promotions.
Please visit them at http://www.oliviabeau.com for more information about our fabulous lingerie collections.
For Olivia Beau Fashion shows, events, advertising, and promotions, contact our agency Premier Alliances: Tel. (305) 535-2557
###