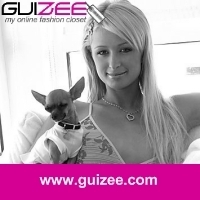 We built Guizee.com to help people keep track of fashion apparel and accessories that they own in a way that most people never can with their physical wardrobe and make better decisions about what to wear and what to buy. Essentially by using Guizee.com, your wardrobe becomes searchable by item type, brand, color, price, the best occasion to wear it and more
Hong Kong, China (PRWEB) February 12, 2009
Onsales Global Services Inc., the company behind online Chinese learnng social network China-8.com, today beta launched Guizee.com (http://www.guizee.com), a new social network that lets users upload their fashion items and mix-and-match them with items uploaded by their friends and the latest fashions in stores to create original fashion outfits. Users can share their sense of style by creating outfits and get feedback from the community through ratings and comment. A fashion diary feature allows members to micro-blog about what they are wearing now or what they wore to a particular occasion.
Guizee.com is a social experiment that seeks to provide answers to the question: "What should I wear?" In addition to uploading their own items, members can search for items from a vast database of fashion apparel and accessories and then use those items to create items to share with friends. In addition, users can tag items they upload with useful data such as brand, color, material, occasion and price and use the site to keep track of real items in their wardrobe and this season's latest fashions. They can even purchase certain items through links to online shopping sites.
"We built Guizee.com to help people keep track of fashion apparel and accessories that they own in a way that most people never can with their physical wardrobe and make better decisions about what to wear and what to buy. Essentially by using Guizee.com, your wardrobe becomes searchable by item type, brand, color, price, the best occasion to wear it and more," said Sahr Johnny, founder and CEO of Onsales Global Services Inc.
Guizee.com plans to add additional features for fashion brands, stores and retailers that will allow them to bulk upload their fashion inventory, which users can then match with the fashion items they already own. The site will also provide tools that will allow small fashion stores to create online dressing rooms, manage inventory and drive traffic to physical or online stores.
"We want to help fashion brands and small stores to promote their products to our users in a way that's not intrusive and adds value to the user experience. Instead of looking at a banner ad, users are actually interacting with the products, creating content around them, as well as sharing and driving traffic to stores," he added.
The site also uses a powerful notification feature that lets users stay up to date with the latest fashion items uploaded by their friends, fashion brands or clothes stores.
"Guizee.com can be used in many different ways. You can maintain a personal inventory of what you own, keep track of your spending on fashion, show off your sense of style or peek into the wardrobes of your friends or co-workers. If you are the kind of person who has nightmares about turning up at a party or event wearing the same clothes as someone else or frequently commit fashion mistakes that make you a laughing stock, Guizee is the site for you," Sahr Johnny said.
About Guizee.com
The name Guizee.com is inspired by the Chinese word for closet or wardrobe "guizi". Guizee.com is an online service of Onsales Global Services Inc., a company founded by Sahr Johnny, an experienced dotcom entrepreneur. In 1999, Sahr Johnny founded Information Age, an online content syndication network that was subsequently majority acquired by chinadotcom, the first Chinese Internet company to list on NASDAQ. Onsales Global Services is based in Hong Kong.
Website: Guizee.com
###