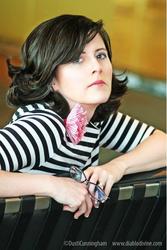 Just like a good wardrobe, a happy life has balance. That is why Style Stories will feature articles on more than fashion
Las Vegas (PRWEB) September 22, 2008
Style Stories Publications launches a new Fashion and Lifestyle website: http://www.StyleStories.com. The new site expands the reach of the subscription based, internationally distributed Style Stories e-zine and features industry insider interviews and easy conversation. Readers will no longer have to be a subscriber to enjoy Style Stories and the new Social Network will provide added benefits such as participation in group discussions, monthly drawings and the ability to meet and chat with others that share common interests.
"Just like a good wardrobe, a happy life has balance. That is why Style Stories will feature articles on more than fashion" says Editor in Chief Donna Smith. Each Features writer is passionate about their field of expertise. So whether it is Fashion, Wine, Art, Make-up and Skin Care or Home Organization, the team at Style Stories love what they do and they love to talk about it! The staff and members will share their favorite finds with readers; it could be a favorite item, a new store or a new web resource. Whatever it is, Style Stories will bring it to you and interview the people behind it.
Style Stories will serve as an information hub as it allows Fashion Industry Public Relations professionals to post press releases and event announcements. Press Releases that generate the most interest in members will find their way to the main Editorial page in the form of an interview with many of the questions coming from the readers.
Style Stories…life experience defines personal style. Personal style tells a story. And everyone has a story…
About Style Stories Publications:
Style Stories Publications is a subsidiary of Russum Consulting, which was founded by Donna Smith in March of 2006. Style Stories is a joint venture between Donna Smith and Robert Mann. Style Stories Publications has three Senior Editors: Miguel Lecuona - Wine, Laura Bailey - Make-up and Beauty, and Su Duhadaway - Home Organization and Entertaining.
###