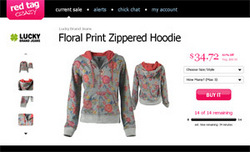 put all my stuff in one box
San Diego, CA (PRWEB) December 1, 2008
Truly Networks, a next-gen online retail development firm, today announced its launch of the first "One Deal at A Time" (ODAT) shopping site for women who enjoy high-end fashion apparel and accessories, RedTagCrazy.com. The social shopping model, pioneered by Woot.com and Steepandcheap.com, has been known to create enormous buzz by combining top brands with huge markdowns, limited quantities, and a very limited time to purchase.
RedTagCrazy.com sells one item from one sought-after fashion label at a time, at deep discounts of 50-80%, with each item expected to last only a few minutes. This creates an entirely new and impulsive shopping experience for fashion friendly females who demand more for less in uncertain economic times. The new site offers a unique mix of casual and designer labels that are bound to keep shoppers returning for more. This, combined with the spontaneous nature of ODAT, is expected to generate large numbers of dedicated fans and loyal shoppers.
The company is also working hard to improve on the original ODAT model. RedTagCrazy.com has introduced a completely new concept called "Hold and Ship". At the end of a one-step checkout page, the shopper is presented with a choice; "I want my stuff!" (Ship items in my cart now), or "I want to buy more and save!" (Hold items in my cart). After paying the original shipping price for the first purchase (on Hold), each additional purchase costs only $0.99 to ship, saving a bundle and encouraging repeat business. It's that fancy "put all my stuff in one box" trick. The customer may choose to ship her items at any moment or at the end of each purchase.
"We're creating a unique solution for exclusive brands to engage customers, move inventory, and create buzz", stated Eric Ingram, Chief Executive of Truly Networks, Inc. "By presenting highly sought-after items with limited quantities for a very limited time, we are vigorously protecting the value of our high-end brands."
He's not kidding. There's no way to tell what will be on sale tomorrow, in the next hour, or even what sold yesterday. The innovation doesn't stop here, though, as RedTagCrazy.com is equipped with a sort of "early warning system". Alert tools are available for nearly every desktop and mobile platform out there, from a Firefox Add-on to an iPhone App, which allows shoppers to stay on top of each new item before it sells out.
RedTagCrazy.com is reaching out to social shoppers with a witty and fun-filled approach, while hooking into popular social networks like Facebook, MySpace, Twitter and more over time. Users are encouraged to embed a special Flash alert that displays the current item for sale on their own profile. Those who adopt this Flash piece early will receive a special offer, yet to be announced. The site also provides a place for shoppers to chat about life and fashion while they wait for the next sale to start.
High-end labels, huge markdowns, unlimited returns and an unbeatable viral marketing model are expected to launch RedTagCrazy.com into the outer reaches of retail success. Watch for this ODAT star to shine bright this season and beyond.
About RedTagCrazy.com
RedTagCrazy.com is the first "One Deal at a Time" (ODAT) shopping site for women who enjoy high-end fashion apparel and accessories. The ODAT model brings consumers into a unique and exciting shopping experience while creating buzz for and protecting the value of top fashion brands. Each item is offered with limited quantities for a very limited amount of time at 50-80% off retail prices. Unlimited returns, instant alerts and customer satisfaction are guaranteed. RedTagCrazy.com is a Truly Networks, Inc. company headquartered in San Diego, California. For more information, visit http://www.redtagcrazy.com
Media Contact:
Kori Ellis, Marketing Coordinator
email: kori(at)redtagcrazy.com
###