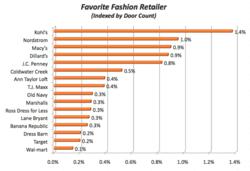 The results might suggest that consumers are loosening their pocketbooks in favor of quality over a bargain for select fashion items.
Boulder, CO (PRWEB) November 07, 2011
Kohl's is the nation's favorite fashion retail chain, according to an annual consumer survey conducted by Market Force Information, a worldwide leader in customer intelligence solutions. This is the third year in a row that Kohl's has earned the top spot. Nordstrom ranked as consumers' second favorite, followed by Macy's, Dillard's and JCPenney.
Market Force surveyed almost 7,000 consumers across North America and asked them to select their favorite fashion retailer from a list of 91 national chains. Results were first tallied based on the number of total votes, where Kohl's took a clear lead with 16% of the vote total. But, the number of votes has a strong correlation to the number of stores. Market Force wanted to determine which chain received the most votes per store, so it indexed the findings by store count. The results showed that Kohl's still is consumers' top choice.
Before the votes were indexed, Kohl's earned the most total votes, while JCPenney amassed the second most, and then Macy's, Walmart and T.J. Maxx.
Kohl's Triumphs as Nation's Favorite
When the votes were indexed to account for number of stores, Wisconsin-based Kohl's retained the No. 1 position, making it a clear consumer favorite. Nordstrom moved into the No. 2 spot, Macy's and Dillard's tied for No. 3, JCPenney landed in the No. 4 slot, and Coldwater Creek rounded out the top five. See Graph 1.
Although they still made it into the top 16 overall, brands like Walmart, Target and Dress Barn landed toward the bottom of the rankings.
"More than 70% of surveyed consumers said that they shopped most recently for casual clothing, with business clothing coming in a distant second. That number grows to a whopping 90% when we asked what they shopped for at their favorite retailer. That tells us that price and type of merchandise loom large as selection criteria for a casual fashion retailer," said Janet Eden-Harris, chief marketing office for Market Force. "Kohl's has achieved that great balance of broad selection and good prices, particularly in the casual clothing sector. But, notice that Nordstrom secured second place, and specialty stores like Coldwater Creek and Ann Taylor Loft came in sixth and seventh. Those results might suggest that consumers are loosening their pocketbooks in favor of quality over a bargain for select fashion items."
Marshalls Gets Points for Loyalty Program, Macy's Scores for Designer Selections
Market Force also looked at how the favorite fashion retail chains compared in different categories to determine if certain attributes set apart the leaders from the rest. Kohl's performed consistently well across the board, leading in almost every category, including no-hassle returns, prices, easy parking, dressing rooms, atmosphere and customer service. Marshalls was the only retailer that received high marks for loyalty program benefits. Macy's trumped the others for offering the widest assortment of clothing and accessories from specific designers. See Graph 2.
Market Force conducted the fashion retail survey in October 2011. The pool of almost 7,000 survey respondents ranged in age from 18 to more than 65 and reflected a broad spectrum of income levels, with three-quarters reporting incomes of more than $50,000 a year. Eighty one percent were women, the primary household consumer purchasers. Half of the participants said they have children at home.
For more information on Market Force's customer intelligence solutions for the retail industry, visit http://www.marketforce.com/industries/retail.
About Market Force Information
Market Force Information Inc. is the leading global customer intelligence solutions company for multi-location businesses, including major retailers, restaurants, grocery and convenience stores, financial institutions, entertainment studios and consumer packaged goods companies. With more than 125 years of combined industry experience, Market Force Information has pioneered the industry with a suite of customer intelligence solutions – from 600,000 field associates across North America and Europe who conduct mystery shopping, merchandising and retail auditing, to real customer surveys and proprietary decision-support tools. Its solutions provide a holistic view of the customer's on-site experience and identify the actions required at the store level to increase customer loyalty and improve financial performance. For more information, visit http://www.marketforce.com and follow us on Twitter @MarketForce.
# # #