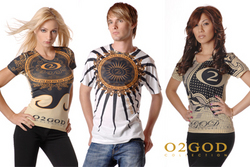 I know who is important, and my life isn't just about me.
Washington, D.C. (PRWEB) August 20, 2007
What can we do to make a change in a world where man is worshipped as an idol and love and compassion doesn't exist? Our children are growing up bombarded with glamorized images of violence, sex and drugs, and money fuels our lives while our humanity is shed at breakneck speed. On the scales of morality, money and vanity seem to grossly outweigh family and God. As the most intelligent form of life on the planet, have we regressed to the point where simple human connection isn't worth an effort?
Here's our chance to answer with a resounding NO and make a difference by starting with ourselves. With some of the most innovative, classy, and creative apparel, O2GOD COLLECTION is a brilliant beacon in the midst of this darkness. The line goes back to the basics and diverts our focus to a higher source: GOD. We are Kings and Queens, royalty, and should walk with that confidence, not because of what we have, but because of who our Father is. Everything I am, everything I have, and every day I live, I Owe 2 GOD; simple but yet so powerful! By wearing this product we proclaim "I know who is important, and my life isn't just about me." We show ourselves to be catalysts for change, the starting point to connecting this world one person at a time, with our beliefs as the common denominator.
Presently based in the D.C. area, O2GOD COLLECTION is the brainchild of CEO Jerome Boatright, who has much more than fashion in mind for his company. The plight of underprivileged children a constant concern, O2GOD sponsored the Sallie Mae Fund 10K race in Washington D.C. this past May. The race benefits the DC College Access Program (DC CAP), a non-profit that helps local public high school students gain access to a college education. Sales of O2GOD COLLECTION will also enable the formation of O2GOD Special Delivery in late 2007, a non-profit entity that will respond to community needs with a focus on children and youth, and effective parenting programs.
O2GOD has released the hottest and most innovative line of Summer/Fall 2007, which is only available for purchase at their online store. The pieces are original and head-turning, ranging from bold, colorful designs ideal for the more outgoing personality, to more understated, neutral designs for the more conservative. It combines a quality product with a style, design, and concept that is revolutionary in the drab, faith-inspired apparel market. O2GOD will present O2GOD KIDS in spring 2008, and expand in the near future to include O2GOD jeans, golf wear, and various accessories.
With O2GOD COLLECTION, clothing eloquently communicates and creates a tie to bind us together in a long, collective stride in the right direction. The most beautiful part of all is that you don't sacrifice anything while spreading a message to your family, friends, and everyone you encounter. Support this company with the knowledge that "It's not just fashion, but a movement."
For more information, visit the website and join the email list at O2GOD.COM, or email INFO @ O2GOD.COM.
###