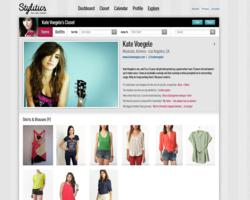 "We aren't a curated boutique or a resale site; we take it a step further by allowing our members to shop the items curated by style icons in their everyday lives: the things they choose to buy for themselves"
New York, NY (PRWEB) November 21, 2012
Stylitics, the social virtual closet website and iPhone app, disrupts the online retail space by introducing shoppable closets of celebrities, style icons, and fashion insiders.
Stylitics is the first of its kind to provide a look into the actual items and outfits worn by top style icons and celebrities, allowing users to shop the looks they own and wear on a daily basis. Partnering with leading affiliate link provider rewardStyle, Stylitics is the first fully shoppable, non-resale virtual closet platform.
Members can raid the virtual closets of fashion insiders including Jenne Lombardo of Milk Studios and Steven Kolb, CEO of the CFDA; actresses Jen Lilley of The Artist and Judi Shekoni of The Twilight Series: Breaking Dawn 2, TV personalities including Jaclyn Swartz of The Bachelor and Adrianna Costa of Extra, singer/songwriter and One Tree Hill star Kate Voegele, DJs and socialites Chelsea Leyland and May Kwok, and top bloggers, fashion designers, and entrepreneurs.
"We aren't a curated boutique or a resale site; we take it a step further by allowing our members to shop the items curated by style icons in their everyday lives: the things they choose to buy for themselves," says co-founder Zach Davis.
Stylitics remembers every detail about what its members own, buy, and wear. It keeps track of their outfit history, allows them to share their personal style with friends and followers via a public Style Profile, and gives them new ideas for how to wear the items in their closets. With the Stylitics iPhone app, members can take their entire closets on the go.
For further information or images please contact:
Jessica Novak; Email: Jessica(at)stylitics(dot)com; Phone: 817-905-0096
--
Stylitics is a social virtual closet platform for people who care about style and clothing. It is a fun, connected, and intelligent extension of a user's actual wardrobe, allowing them to share ideas with friends, collaborate on outfits, and explore and shop celebrity closets. Stylitics is an official partner of the CFDA and has been featured in Vogue, The New York Times, and The Wall Street Journal.
For more information on Stylitics, go to http://www.stylitics.com.