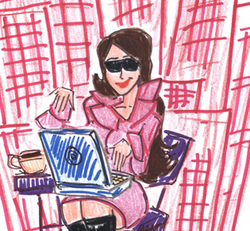 This year, fashion & lifestyle bloggers really solidified the fashion blogosphere as a viable alternative to the old-school fashion & beauty magazines for both advertisers & readers...and created a new form of fashion media in the process
New York, NY (PRWEB) December 26, 2007
In a bright yellow strapless cocktail dress and new hair style, Reese Witherspoon was widely photographed on the red carpet at the Golden Globe awards sporting two of the year's strongest fashion trends: bright color and bangs. And despite being such a new show, "Gossip Girl" has already influenced popular style to a surprising degree, in particular with schoolgirl plaids and over-the-knee boots.
However, one of the year's most interesting trends on the Fashiontribes.com Top 10 Fashion Moments & Trends for 2007 did not involve Hollywood celebrities, but the growing power and influence of fashion bloggers. "This year, fashion & lifestyle bloggers really solidified the fashion blogosphere as a viable alternative to the old-school fashion & beauty magazines for both advertisers & readers...and created a new form of fashion media in the process," explains Lesley Scott, Editor in Chief of Fashiontribes.com, which was recently voted the #4 Fashion Blog. "Instead of the right social connections needed to get a low-ranking assistant editor job at a big-name fashion magazine - and the trustfund necessary to survive in New York City on a starting salary of around $30,000 - fashion bloggers succeed the democratic way: with initiative, talent, taste, and the hard work it takes to update with quality content daily."
Other Fashiontribes.com Top 10 Fashion Moments for 2007:

Marc Jacobs Spring 2008 fashion show, which was staged in reverse & included shoes sprouting heels unexpectedly from the ball-of-the-foot area
the iPhone: the intertwining of fashion and technology
Kate Moss in high-waisted, wide-leg denim
Paul Poiret exhibition at the Metropolitan Museum of Art's Costume Institute
Sienna Miller in a "Club Sandwiches Not Seals" message hoodie
Zac Posen's Tote for Teacher benefiting Teacher's Count
Christian Dior Couture Spring 2008 runway show: a critically-acclaimed show & widely considered to be designer John Galliano at his peak
About Fashiontribes.com:
The Fashiontribes blog is edited by NYC-based fashion & lifestyle expert Lesley Scott, and is updated daily with fashion, beauty, and luxury lifestyle news and shopping picks. Frequently voted one of the Top 10 Fashion Blogs, Fashiontribes is also one of Technorati's Top 20 Lifestyle Blogs, and one of the premier blogs in the Glam.com Network, the #1 women's property on the web.
###