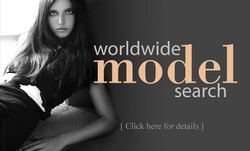 When it comes to personalized management for models, not letting them get lost in a huge agency, J.J. is the best
Los Angeles, CA (PRWEB) February 11, 2008
Management First and Zoobody.com are partnering to launch a worldwide fashion model search on Zoobody.com in 2008 for new modeling talent of all ages. Four winning fashion models selected from Zoobody.com over the next 12 months will receive an all expenses paid flight and hotel to New York City for a photo shoot with a professional photographer and a meeting with J.J. Cortez of Management First for a possible management contract. Management First is using Zoobody.com looking for four new fashion model clients with talent and the looks to bring their careers to the next level.
"J.J.'s model selection, resume, and reputation, speaks for itself. He has the unique ability to spot the 'next generation' face that will be very successful," says Zoobody.com CEO Dan Faiman.
For the next 12 months anyone can sign-up for free at Zoobody.com, set-up a profile and be one of four winning fashion models selected, by J.J. Cortez of Mgmt First. Every third month a group of finalists will be featured on Zoobody.com and at the end of the month Mgmt First will select their winner. But J.J. Cortez wants the opinions of the public, so Zoobody.com will give the public their chance to make their voice heard by voting for and commenting on their favorite fashion model.
"Both Mgmt First and Zoobody have similar philosophies of assisting people in advancing their careers," says J.J. Cortez, owner of Mgmt First.
With its unique search engine capabilities Zoobody.com is giving J.J. Cortez and Mgmt First the capability to reach a talent pool worldwide and the ability to organize, sort and easily communicate with this talent pool.
"When it comes to personalized management for models, not letting them get lost in a huge agency, J.J. is the best," says Dan Faiman, CEO of Zoobody.com.
J.J. Cortez's most noted talent campaigns include supermodel Niki Taylor's multi-million dollar contract with Covergirl and L'Oreal cosmetics as well as fashion model Daniela Pestova's campaigns for L'Oreal, Borghese cosmetics and Guess Jeans.
Visit http://www.zoobody.com and http://www.mgmtfirst.com
###