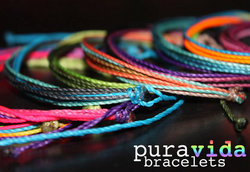 "Express Your Lifestyle" with Pura Vida Bracelets!
San Diego, CA (PRWEB) July 21, 2010
Pura Vida Bracelets brings the hottest new trend to the beaches this summer from Malibu to San Diego. Both kids and adults alike have been picking up 1, 3, 5 even 10 bracelets at a time before they sell out. Stores have been placing bulk order just to keep up with the demand. Pura Vida Bracelets has already re-ordered more inventory after only 1 week of being in the states.
The phrase "Pura Vida" (pu·ra vi·da) means pure life in Spanish. Enjoying life slowly, celebrating good fortune and not taking anything for granted embody the Pura Vida Lifestyle. The hard work that went into each bracelet represents the dedication and respect for the beautiful land that we all live in. Each original bracelet is handmade in Costa Rica with a unique combination of colors. Selecting your "Pura Vida" bracelet isn't always a quick task. Local jewlers spend days, even weeks creating specific bracelets to express their lifestyle. From vibrant colors to earth tones, Pura Vida Bracelets has any combination for you.
While traveling through Central America, the team at Pura Vida Bracelets realized they needed to help clean up the beautiful beaches around the world. With the success of the bracelets, the company decides to donate a percentage of company profits to the Surfider Foundation. The Surfrider Foundation is a grass roots organization dedicated to preserving and protecting the oceans and beaches worldwide. It has over 50,000 members and over 140,000 volunteer hours. Pura Vida Bracelets strives to go above and beyond your average new fashion trend and truly give back to an important cause.
Whether it be at the beach, going to work, or even a night on the town, Pura Vida Bracelets has proven to be worn at all times. It will be interesting to see this promising company continue to grow over the rest of summer. Hello fashion world, Pura Vida Bracelets has arrived and is here to stay!
For more info, pictures and updates visit http://www.puravidabracelets.com
###