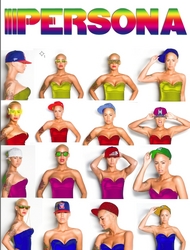 Los Angeles, California (PRWEB) September 4, 2009
SwaggMedia & cover model Amber Rose launch PERSONA Magazine
Event to kick off New York Fashion Week
WHO: Hosted by SwaggMedia and Russell Simmons the evening will celebrate the launch of PERSONA Magazine with cover model Amber Rose.
WHAT: PERSONA Magazine will speak to and reflect the thoughts and emotions of critical and creative thinkers of the current mixed generation. With the blues of urban angst and the hues of high fashion, the abstract greens and browns of the underground and eclectic purple sound of electronica, PERSONA Magazine is the prism that enables this generation to view a full spectrum of expression, from the collective conscience to individual awakenings.
SwaggMedia has joined this venture to facilitate PERSONA Magazine's vision not only through print, but also through multimedia distribution. As a new digital web portal with a world-influencing platform and innovative applications, SwaggMedia will join efforts with PERSONA Magazine to introduce the world's newest fashion portal. SwaggMedia developed by Craig Nobles is the digital component used to deliver upfront and honest information pertaining to what's going on in pop culture globally--making SwaggMedia an international lifestyle brand that's committed to employing a differentiation strategy in its content and design structure.
WHEN: Friday, September 11, 2009
7:00 p.m. MEDIA CHECK-IN
8:00 p.m. ARRIVALS/PARTY
WHERE: Griffin - 50 Gansevoort Street (between Greenwich & Washington)
CONTACT: Eliane Henri eliane(at)ehi-pr(dot)com 310.873.7771
Allison Whitbeck allison(at)ehi-pr(dot)com 310.903.7141
# # #