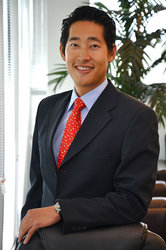 I am so grateful to have been selected as the winner, but I look at this as a team award more than a personal award. Charming Charlie could not be where it is today without my team
Houston, TX (Vocus) July 7, 2010
Charming Charlie, a fashion accessory boutique, announced that Charlie Chanaratsopon, CEO and founder, received the Ernst & Young Entrepreneur Of The Year® 2010 Award in the retail category in Houston & Gulf Coast Area. According to Ernst & Young LLP, the award recognizes outstanding entrepreneurs who are building and leading dynamic, growing businesses. Charlie Chanaratsopon was selected by an independent panel of judges, and the award was presented at a gala event at the Omni Hotel Houston on June 24, 2010.
"I am so grateful to have been selected as the winner, but I look at this as a team award more than a personal award. Charming Charlie could not be where it is today without my team," stated Chanaratsopon.
Chanaratsopon, a commercial real estate professional, founded Charming Charlie in 2004 in his hometown of Houston, TX. Parlaying his Columbia graduate business school office hours into business consulting sessions and his personal line of credit into funding, Chanaratsopon was able to manifest his retail vision into a reality when a tenant from one of his shopping centers backed out of their lease.
The concept was unique to the market, especially amid a sea of struggling apparel-based retailers. Chanaratsopon and team incubated the women's accessory concept in Houston and methodically tested different product mixes, visual merchandising schemes and even fixtures. Chanaratsopon also found it key to listen to the consumer through customer surveys and by analyzing sales trends.
The end result was a combination of an upscale fashion accessory boutique experience, value-oriented price points ($4.97-$49.97), a broad selection to suit any personal consumer aesthetic and a merchandising scheme based on color instead of category. So, if a shopper was looking to accessorize a red outfit, she could very easily find all of her accessory options in red. Charming Charlie was positioned to be a consumer success and a complement to other retailers, creating a universal fit in most shopping centers and malls.
Charming Charlie, the Houston fashion accessory boutique, began their expansion across Texas in 2006 and now has over 55 stores in 14 states mainly across the southeastern United States.
The Ernst & Young Entrepreneur of the Year® award win comes on the heels of the International Council of Shopping Centers ICSC 2010 Hot Retailer award that Charming Charlie received one month prior. The award was received during ICSC's Global Retail Real Estate Convention, RECon, on Tuesday, May 25, 2010, in Las Vegas, Nevada.
Based on a survey of ICSC's worldwide members, five retailers were chosen as the "hottest" concepts of the year. "Charming Charlie is honored to receive the award," stated Charming Charlie CEO, Charlie Chanaratsopon. "We are in great company and we are really excited about our continued growth in 2010."
The Ernst & Young Entrepreneur of The Year awards celebrate their 24th anniversary this year. The program honors entrepreneurs who have demonstrated exceptionality in such areas as innovation, financial performance and personal commitment to their businesses and communities.
As a Houston & Gulf Coast Area award winner, Charlie Chanaratsopon is now eligible for consideration for the Ernst & Young LLP Entrepreneur Of The Year 2010 national program. Award winners in several national categories, as well as the overall national Ernst & Young Entrepreneur Of The Year award winner, will be announced at the annual awards gala in Palm Springs, California on November 13, 2010. The awards are the culminating event of the Ernst & Young Strategic Growth Forum, the nation's most prestigious gathering of high-growth, market-leading companies.
Sponsors
Founded and produced by Ernst & Young LLP, the Entrepreneur Of The Year awards are pleased to have the Ewing Marion Kauffman Foundation and SAP America as national sponsors.
In Houston & Gulf Coast Area, sponsors include Fullbright & Jaworski L.L.P, Lockton Companies LLC, Bowne, Solomon Edwards Group, Smart Business Network, Inc., and Pierpont Communications, Inc.
About Charming Charlie
Founded in Houston, Texas in 2004, Charming Charlie is a unique fashion accessories boutique designed to help a woman complete her outfit for any occasion. To help women navigate the overwhelming and fabulous selection of fashion jewelry, handbags, belts, scarves and more - we merchandise by color, not category. So, looking for accessories to accent a yellow dress? Visit the yellow section and let the fun begin. For more information, visit http://www.charmingcharlie.com.
About Ernst & Young's Entrepreneur Of The Year® Awards Program
Ernst & Young's Entrepreneur Of The Year® is the world's most prestigious business award for entrepreneurs. The award makes a difference through the unique way it encourages entrepreneurial activity among those with potential and recognizes the contribution of people who inspire others with their vision, leadership and achievement. As the first and only truly global award of its kind, Ernst & Young Entrepreneur Of The Year® celebrates those who are building and leading successful, growing and dynamic businesses, recognizing them through regional, national and global awards programs in more than 135 cities in 50 countries.
Ernst & Young refers to the global organization of member firms of Ernst & Young Global Limited, each of which is a separate legal entity. Ernst & Young LLP is a client-serving member firm of Ernst & Young Global Limited located in the U.S.
# # #