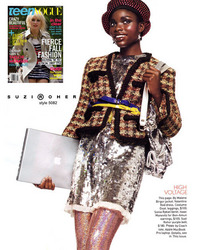 Little Ladies - High Voltage
Toronto, Ontario (PRWEB) August 19, 2009
Suzi Roher women's fashion belts continue to be showcased in the World's leading fashion magazines, with both Flare and Teen Vogue featuring different styles in their September issues. Other belts have recently been featured in pictorials in Vogue, Cosmopolitan and Real Simple. Flare is Canada's top fashion magazine and Teen Vogue is the authority for young women's fashion.
In the Flare pictorial, "Memoirs of a Butterfly", photographer Chris Nicholls vividly captures the essence of love and loss of a young geisha. The photo, taken at the Four Seasons Centre for the Performing Arts, features style #3817 and is worn by the protagonist of the play "Madam Butterfly". Suzi Roher describes style #3817 as "a very sexy, waist cinch with six different operating zippers that can create many different effects."
The Teen Vogue pictorial is more youthful and upbeat. Style 5082 completes the look jovial along with candy tweeds, sweet bows and sparkly pins that are freshened up with a graphic tee and jeans. Photographer Daniel Jackson makes the "Little Ladies - High Voltage" pictorial feel natural and vibrant.
Roher elaborates on style #5082, "this basic is totally adjustable and can be worn on the waist over a sweater, in pants loops, or as a hip belt. It is an excellent width for stacking with other belts. The leather is a fabulous purple Italian patent."
Suzi Roher creates her eclectic, custom, fashion belts in the belief that women appreciate an element of fantasy. Some styles in her collection include designer belts with elastic under the hardware creating versatility and adjustability, that does not sacrifice comfort for style. Today, Suzi Roher women's belts can be found at prestigious merchants throughout the United States, Canada and Europe, or via http://www.suziroher.com/Shop-Now.
About Suzi Roher
Suzi Roher's distinctive designer belts have been an open secret with style connoisseurs since they first appeared on the scene over 24 years ago. Determined to maintain the most rigorous quality control, Roher personally oversees the manufacture of her designs from her factory in Toronto.
###