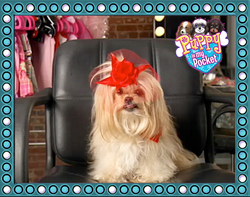 "In My Pocket is the brand that virtually created the pocket-size collectible category"
El Segundo, CA (PRWEB) March 18, 2011
Puppy In My Pocket®, the favorite pocket-sized collectible of girls around the world announces their latest collection, fresh off the runways of Paris: New Fashion Puppies---Ready-to-wear, ready-to-share for hours of fashion play and fun.
The line consists of 28 stylin' pups, each decked out in a trendy outfit with accessories any budding fashionista will love. Removable fashions can be shared with other puppies in the line for endless play and a variety of fabulous looks.
The Fashion Pups attend the Fashion Academy, where they can learn all about fashion, whether it's design, modeling, dressmaking or coordinating a major fashion show. Each pup has a role to play, like Stella, the Super Model or DJ Freddie who cranks up the music on the catwalk. Make-Up Artist Nora and Spike the Hairstylist are just a few of the backstage crew who help models get ready to strike a pose in the coolest clothes.
In addition to the Fashion Academy play set, there are two Fashion Boutiques, where puppies can shop 'til they drop for more removable fashions and fun.
"In My Pocket is the brand that virtually created the pocket-size collectible category, with their unique, fuzzy coats and endearing looks," said Ana Hory, M.E.G. Director of Worldwide Marketing. "From Puppy to Kitty to Jungle to Ocean to Baby In My Pocket---we've done it all and we did it first! Now we're dressing up our puppies and putting on a show! Judging from the preliminary response we've seen from girls, they can't wait to collect all these stylish pups and create their own fashion shows. In fact, we're inviting them to send in their best fashion videos to YouTube to show us how their Fashion Pups work the runway."
Girls can extend the fashion play further online at the brand's popular http://www.inmypocket.com website, where it's free to play games, dress your pets, create your own stylish avatar and chat with friends (completely safe since a player can only chat using phrases provided.).
Already an International success, Fashion Puppies will be supported with a major TV campaign in the U.S. with two commercials starting March 21 on kids' networks.
Puppy In My Pocket ® Fashion Puppies are available at Toys'R'Us, ebay and select Target stores.
About M.E.G.
M.E.G. is a leading owner, creator and developer of a wide range of successful Intellectual Properties. In addition to Puppy In My Pocket®, MEG also owns and markets an extensive list of other In My Pocket® properties such as Kitty In My Pocket®, Jungle in My Pocket®, Pony In My Pocket®, Ocean In My Pocket® , Monster In My Pocket®, and the newest version, Baby In My Pocket®. Other innovative brands created and owned by MEG include Stink Blasters®, Power Buggz®, Lottalittles® and Scent Stars®. These highly successful properties are manufactured by MEG and sold worldwide by top-tier toy distributors covering over 50 countries. MEG was founded by a former Mattel EVP of Marketing, Joe Morrison, and is based in El Segundo, Calif. For more information: visit http://www.megtoys.com/.
CONTACT:
Barbara Lewis
info(at)inmypocket(dot)com
# # #