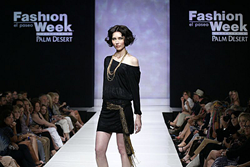 I am amazed at the incredible lineup of world-class fashion designers on this year's menu.
Palm Desert, CA (PRWEB) March 15, 2014
Brad Schmett, Broker Associate with Luxury Homes by Keller Williams today announced that Fashion Week El Paseo 2014 will be one of the most coveted tickets in March across the La Quinta area. Scheduled to begin on Sunday, March 16, 2014 a bevy of the most famous names in fashion will lend a prestigious air and plenty of excitement for everyone.
Benefiting several local charities, Fashion Week is always a huge success. Attendees from across the nation head to trendy El Paseo Drive in Palm Desert to take part in the gala events that comprise the week long celebrations. Starting with the Sunday Style and Beauty Bash, and continuing on through the Le Chien-A Celebration of Dogs in Fashion, the FIDM-Fashion Institute of Design and Merchandising with its cocktail reception, El Paseo Runway Night, Meet and Greet with Michael Costello and Project Runway Designers, The Superstars of Project Runway, The Trunk Show, JM Couture presents "Life Is a Runway," The Best of Saks Fifth Avenue, and culminating with Designer of the Week-Zang Toi, everyday promises plenty of excitement for the Cognoscenti of Fashion!
Schmett observed that, "Every year this event gets bigger and better. I am amazed at the incredible lineup of world-class fashion designers on this year's menu. As participants and attendees arrive in the Valley to enjoy a week of fun for charity, our office knows our phone will be ringing nonstop. First-time visitors are always absolutely blown away by all that we have to offer in this beautiful desert. Once they see the perfect weather, the luxury lifestyle and the packed event calendar year in and year out, they can't wait to purchase a vacation home, or even a primary residence right here locally. It is our pleasure to serve all of them."
Tickets are on sale now through March 22, 2014. Plan to attend at least one of the high-profile gala events that are the hallmark of this fabulous week of fashion.
For more information on Fashion Week El Paseo 2014 visit http://www.fashionweekelpaseo.com/events-index.html.
Click here to find out more about investing in Palm Desert real estate.
About Luxury Homes by Keller Williams: Luxury Homes by Keller Williams – La Quinta, is an exclusive, elite and sophisticated group of real estate consultants raising the bar for service in the La Quinta and Palm Desert area residential real estate market.