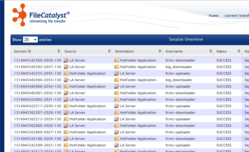 FileCatalyst is able to transfer up to 5000X faster than FTP on a 10 Gbps link with a latency of 150ms.
Amsterdam, Netherlands (PRWEB) September 09, 2011
Unlimi-Tech Software is pleased to announce from the IBC Expo in Amsterdam the imminent release of FileCatalyst Direct 3.0, the latest version of their enterprise file transfer technology. Unlimi-Tech Software is an innovator in the accelerated file transfer sphere and developers of the FileCatalyst platform.
Two major features in the upcoming release are a web-based central management console and point-to-point transfers at 10 Gbps over a wide area network.
The FileCatalyst management console allows real-time monitoring and administration of all FileCatalyst Server and client components from within any modern web browser. With no additional firewall configuration required, administrators may access a consolidated view of all current activity on the system, remotely configure applications, or schedule transfers to and from each of the connected nodes. The console also continuously monitors Network activity and overall health of the system.
"Many of our customers deploy FileCatalyst server and client software on a global scale," says Chris Bailey, CEO of Unlimi-Tech, "The new FileCatalyst Management console will greatly enhance our customers' ability to manage these nodes in an efficient manner."
In addition to the new management capabilities, FileCatalyst 3.0 has the ability to transfer files at a full 10 Gbps even when transmitting across intercontinental links.
"It is becoming much less expensive for organizations to upgrade to10 Gbps speeds; however, they will never achieve this speed using traditional transfer methods," says John Tkaczewski, President of Unlimi-Tech, "With its new capabilities, FileCatalyst is able to transfer 5000X faster than FTP on a 10 Gbps link with a latency of 250ms."
FileCatalyst 3.0 will be demonstrated at IBC this week and will be available as a beta download by the end of September. It will be officially released in mid-October.
To learn more, come visit us at 7.H40 at the IBC Exhibition in Amsterdam.
For a full list of new features and improvements, visit http://www.filecatalyst.com
About Unlimi-Tech Software
Located in Ottawa, Canada, Unlimi-Tech Software is the creator of FileCatalyst, the world's leading file transfer solution. Founded in 2000, the company has more than nine hundred commercial and government clients. FileCatalyst technology is a software-based solution designed to accelerate and optimize file transfers across global networks. FileCatalyst is immune to the effects that latency and packet loss have on traditional file transfer methods such as FTP, HTTP or CIFS. FileCatalyst addresses these issues for enterprise WAN, satellite and wireless communications, media and content providers, and government and military organizations.
###