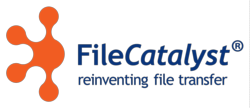 FileCatalyst Direct is the only file transfer software to reach 10 Gbps with a single file stream.
Ottawa, ON (PRWEB) August 30, 2012
Unlimi-Tech Software, the leader in accelerated and managed file transfer technology, will be at the 2012 IBC trade show in Amsterdam from September 7–11, demonstrating FileCatalyst technology at booth 7.H40. The lineup presented at the show includes FileCatalyst Direct, FileCatalyst Workflow and FileCatalyst Central. Highlights include 10 Gbps file transfers, a centralized management console, and new mobile file transfer apps for both iOS and Android.
These new releases represent leading edge developments in the area of large data movement, and accelerated file transfer. FileCatalyst Direct is the only file transfer software to reach 10 Gbps with a single file stream. Competing software must send several files in parallel to achieve the same speed.
Advances in mobile network speeds, as well as mobile camera and storage technology have made capturing and transferring HD content from a mobile device a reality. Until now there hasn't been a reliable mechanism to transmit these massive files from a handheld device over the public internet. The new FileCatalyst mobile apps for iOS and Android address this need by providing features like intelligent network switching (i.e. 4G to Wifi), pause/resume, and recovery from complete loss of connection.
"We continue to lead innovation in the accelerated file transfer sphere," says Chris Bailey, CEO of Unlimi-Tech. "We've added several new European customers and partners in the past year, and we are looking to continue building on that success."
FileCatalyst technology will also be on display in booth 7.J16 where Quicklink has integrated the FileCatalyst API with its Store and Forward LNG solution. This solution provides journalists and other content providers with an easy to use encoding and transmission system that can be optimized for any network connection.
For more information about FileCatalyst, visit filecatalyst.com or visit us at IBC in Amsterdam, September 7–11, booth 7.H40
About Unlimi-Tech
Located in Ottawa, Canada, Unlimi-Tech Software is the creator of FileCatalyst, the world's leading file transfer solution. Founded in 2000, the company has more than a thousand commercial and government clients.
FileCatalyst is a software platform designed to accelerate and manage file transfers. FileCatalyst is immune to the effects that latency and packet loss have on traditional file transfer methods like FTP, HTTP or CIFS. Global organizations use FileCatalyst to solve issues related to file transfer, including content distribution, file sharing and offsite backups.