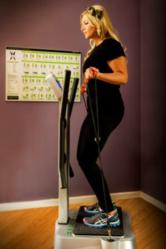 Along with proper eating plans and exercise, my clients are experiencing weight and inch loss and are able to keep from gaining it back, maintaining a healthy weight for a lifetime and not ever having to try another fad or yo-yo diet again.
Niagara Falls, NY (PRWEB) June 10, 2013
In today's world of fast food and convenience, society is becoming increasingly inactive and overweight. At Slender Inspirations, they work to promote healthy lifestyles, which include not only nutrition, but exercise as well. Many of their clients find limits to the time and effort they can put into an exercise regimen; including lack of free time, equipment or ability to use gym equipment due to injury. Now, Slender Inspirations is promoting a different kind of exercise using the Hyper Vibe Full Body Vibration Platform. The Hyper Vibe uses Whole Body Vibration technology to help individuals reach their personal goals.
The Hyper Vibe was originally created in Russia by their space program to assist in rehabilitation of muscle and bone density for the cosmonauts who were experiencing a zero gravity environment which causes deterioration of the muscle and bone. A Whole Body Vibration platform exerts force many times that of gravity which assisted in their rehabilitation process.
When an individual is training at a gym, the core of the workouts involve contraction of the body's muscles over and over again, whether during use of weights, hydraulic machines or the individual's body weight to create load. When using the Hyper Vibe, the muscle contractions are increased to up to 28 times per second. A full workout on the Hyper Vibe is achieved in ten minute durations. Despite its effectiveness, it should be used three to four times a week.
At Slender Inspirations, the Hyper Vibe's primary use is for lymphatic drainage. With cold laser therapy, they pull water, glycerol and free fatty acids from the fat cells. As these toxins are dumped into the lymphatic system and begin floating around in the liver, the body needs to get rid of them as quickly as possible to avoid settling back into the body. The Hyper Vibe, along with plenty of water and exercise does just that. Once these toxins have been eliminated and the fat cells shrink, this is how inches are lost.
"Along with proper eating plans and exercise, my clients are experiencing weight and inch loss and are able to keep from gaining it back, maintaining a healthy weight for a lifetime and not ever having to try another fad or yo-yo diet again," said owner, Margaret Mokhiber.
Along with inch loss, pain management can be achieved for those who suffer from neuropathy and inflammation of the muscles and joints. Slender Inspirations can use the cold laser lights along with the Hyper Vibe to decrease inflammation and pain and in the cases of neuropathy, increases blood flow, circulation and oxygen to those extremities affected.
There are different intensity levels on the Hyper Vibe which offer therapeutic benefits as well. At lower speeds, the gentle rocking helps improve balance and is of great assistance to the elderly or the injured. On lower therapeutic speeds, the machine can be used more than the recommended ten minutes on workout mode. The slightly higher speeds are excellent for massage, circulation and recovery.
There is scientific evidence that whole body vibration training can reduce and or eliminate back and joint pain, improve muscle strength and power, increase joint motion, increase muscle tone and muscle mass, increase bone density associated with osteoporosis, increase flexibility and coordination, improve circulation associated with diabetes, strengthen pelvic floor muscles and improve pelvic floor function. And, there are many benefits of Whole Body Vibration for those who suffer from many diseases including Cerebral Palsy and Parkinson's. The technology helps to improve core stability, increase metabolism and accelerate weight loss.
As with any exercise program, individuals should always consult with physicians before starting any new exercise program, including using the Hyper Vibe Whole Body Vibration technology.
Call Slender Inspirations today at 716-525-4214 and discover the many healthful benefits of this remarkable Whole Body Vibration Platform technology to improve overall level of health, fitness and enjoy an enhanced lifestyle.
About the company:
At Slender Inspirations, their goal is to guide clients through a body transformation experience. With the assistance of Slender Inspirations knowledge, clients can achieve the body they've always dreamed of. With the laser-like lipo treatments, cleansing program and weight management plan, Slender Inspirations focuses on their clients every step of the way and allows a real opportunity to achieve fast weight loss. Not only will the proper treatment plan be utilized with confidence, clients will be given expert guidance toward making the dynamic lifestyle changes necessary to manage their symptoms. For more information, please visit: http://www.slenderinspirationsfatloss.com.