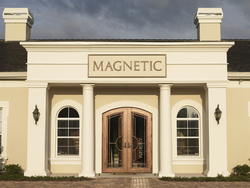 Our team exhibits an ongoing commitment to quality and innovation. That commitment has been central to our ability to adapt and grow as a company
Tampa, FL (Vocus) August 4, 2009
The Tampa Bay Business Journal held a ceremony on Thursday, July 23, to announce the Fast 50 Awards. The awards recognize the fastest growing companies in the region, based on revenue growth over the past three years. While the Fast 50 companies were announced June 15, 2009, the companies' rankings were not revealed until the ceremony, held at A La Carte Event Pavilion.
The Fast 50 honorees come from a wide variety of industries. There are several criteria considered in determining an individual company's ranking. To qualify, however, all companies surpassed at least $1 million in revenue in 2006, and have maintained annual growth ever since.
Magnetic, a full-service Web development firm, ranked #14, an honor that Magnetic CEO Jennifer Bakunas attributes to the cohesiveness and dedication of Magnetic's team. "Our team exhibits an ongoing commitment to quality and innovation. That commitment has been central to our ability to adapt and grow as a company," said Bakunas.
As the company has grown, Magnetic has adopted new processes to support and foster continued development. Bakunas said, "Our goal as we grow is to continue providing our clients with unparalleled service, to ensure satisfying long-term relationships with them."
Magnetic has recently expanded its services, broadening their capacity to bring clients cutting-edge website design and functionality. "The company has really evolved to offer 'total package' service," said Bakunas, "Our team is dedicated to staying at the forefront of the industry, and that has certainly contributed to our continued progress."
To meet the burgeoning demand for their services, Magnetic recently added five members to its team. The company's commitment to team building and cross-functional communication also bolsters Magnetic's successful growth. This emphasis on positive internal communication and work climate has also made Magnetic one of the Tampa Bay Business Journal's "Best Places to Work" for four consecutive years.
About Magnetic
Based in Tampa, Fla. and founded in 1997, Magnetic is a full-service Web development firm that helps businesses reach their full web potential through strategic consulting, Web design, e-commerce, database integration, content management, systems integration, Web marketing and Web hosting. Named the 2007 Small Business of the Year by the Greater Tampa Chamber of Commerce, Magnetic offers both business and technical expertise to help medium- and large-size businesses achieve greater profitability and sales through the Internet. For more information on Magnetic, please visit http://www.magnetic.com.
# # #