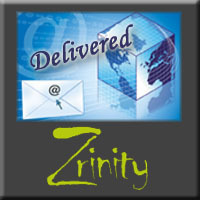 This is a Zrinity effort to become a part of the entrepreneurial process.
Utica, NY (PRWEB) December 2, 2007
Zrinity, Inc. based in Utica New York, provider of email delivery server and systems, today announced a new program, " Enterprise to Entrepreneurs" and a new set of email marketing resources which include " Zpedia". Zpedia provides definitions of email marketing related terminology and also links to a number of email marketing white papers and case studies.
"Enterprise for Entrepreneurs" is a means through which small business owners submit a short on-line request form with their business plan summarized and qualify for a one in one hundred chance to win a $50,000 enterprise email server from Zrinity. Rob Thrasher, Marketing Director, Zrinity said, "This is a Zrinity effort to become a part of the entrepreneurial process." If we invest our technology into small business ventures, we'll see a reward long term and help foster small business with a tool they otherwise could not afford." Zrinity will also alter its pricing policy to encourage email marketing best practices. This Best Practices Pricing will encourage engaging and collaborating with the email delivery experts at Zrinity and produce a return on training investment for Zrinity customers.
Gary Kraeger, President & Co-Founder of Zrinity commented, "The pricing structure also provides an incentive for companies who use best practices for email delivery through our competitive email service providers to take another look at Zrinity's solutions. This should cause another growth spike for Zrinity in the short term similar to the one highlighted in Forbes recently." This news article, "New Email Algorithm Causes Growth Spike for Central New York Firm " can be found by searching for 'Zrinity Forbes' in Google.
Zrinity recently announced that its email delivery server and list management systems were chosen by Dunhill Vacations and Freewebs for their millions of subscribers. The goals of Dunhill Vacations were to find a highly customizable and expandable solution to fit the business model; Increase delivery speeds, tracking, and response rates; Work closely with developers, when necessary, to achieve goals; Dramatically reduce costs of ASP solutions; and find a very "light" application framework compared to other bulky and costly enterprise solutions.
Freewebs' customers have built over 17 million websites using Freewebs free "do it yourself" web publishing tool that makes it easy to add blogs, photos, videos, music, e-commerce and more. Email communications is a mission critical component of the Freewebs marketing strategy. Email serves as a primary channel for Freewebs to communicate with customers. Each month, Freewebs sends millions of emails to its member base about product improvements and other news, and deliverability is critical to retention and revenue.
About Zrinity, Inc.
Zrinity is a leading provider of email systems for Global 2000 businesses as well as email service providers (ESP's). Zrinity provides its customers with high-performance email delivery server and systems. Zrinity, in Central New York, serves a wide variety of industries such as banking, education, government, health care, retail and B2B. Customers include The Pentagon, ADT Security, PGA, Boeing, Pfizer, Duke University, Penn State and more.
###