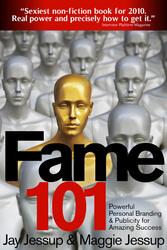 Great communicators are elevated much faster than the norm, whether it's Governor Palin or a quickly promoted manager at any American company.
Los Angeles, CA (Vocus) February 1, 2010
Every company has fast-rising stars; management loves them and they get the best jobs but rarely are these winners the smartest or most competent according to personal branding experts. Want a high trajectory career, great job offers, and big raises? Take career success cues from Hollywood's biggest personal brands and rock star politicians to get early promotions and big paychecks.
Career Secret No. 1 – Train to Communicate Like Sara Palin
In less than two years Sara Palin catapulted from backwater governor to highly-paid Fox commentator, best selling author, and conservative darling. Whether you like her politics or not, anyone would agree her career is nothing short of stratospheric, but what can a mid-level corporate manager learn from Sara Palin about getting promoted? Plenty, says Jay Jessup, a personal branding expert.
"Great communicators are elevated much faster than the norm, whether it's Governor Palin or a quickly promoted manager at any American company" said Jessup. "Listen to the leading voices of any industry; they have great storytelling and messaging skills and that is the sound of intelligence. These are learned skills." Jessup recommends that any corporate manager should spend some off-duty time developing speaking skills and even doing some media training for assured career adrenaline.
Career Secret No. 2 – Plan Ahead Like Oprah Winfrey
Oprah's trek from local weathergirl to the world's most powerful woman didn't happen by accident; she planned every step and is still thinking ahead 5 years. "America's most-successful, whether it's Oprah or high level corporate executives, know where they want to be in 1, 5 and 10 years" said Jessup. "When someone asked Oprah Winfrey what was next five years ago she said she wanted to have her own network; insiders knew she would have it and voila – this year she has more 'overnight' success with a network."
At companies the same thing happens; employees are rewarded for planning ahead. In his new personal branding book Fame 101, author Jessup says most employees, low-level managers to top vice presidents, are taken by surprise when promotion opportunities arise. The people who actually get the best jobs have been planning their strategy for one year or more. Upward mobility requires looking ahead Oprah style. Great personal brands and careers aren't built on-the-fly.
Career Secret No. 3 – Go Outside Your Company Like Martha Stewart
Martha Stewart could easily spend 100% of her time running her media empire; magazines, television shows, endorsements and such. However, Martha knows a key secret to career and business success is to connect directly with the people who made her company successful. This zillion dollar personal brand steps away from Martha Inc. to become simply "Martha" on talk shows, speaking to women's groups, and writing books to inform and connect with her upscale female fans.
Taking a page from Martha's playbook, the fastest rising stars at every company invest much of their time meeting the people who provide revenue to their employer. "A Home Depot manager who wants a spot at corporate should be active in his state's construction and home improvement industries; as a personal brand who speaks, writes articles, and is known by everyone" said Jessup. "Careers flounder when you focus solely inside your company. Learn the secret from Martha and let your fellow employees fight from within while you build a power base on the outside."
The bottom line on all this: just like brand Sara, brand Oprah, and brand Martha, the people who get the best jobs, quick promotions, and corresponding great income do what their competitors aren't doing. They develop their communication skills, they plan for the job they want (and the one after that), and they become leading voices within the community that supports their employer. Do these things and fast-track your career. For more career secrets and personal branding tips http://www.fame101book.com
Media Contact: 360.521.0437
About Jay Jessup: Jay Jessup is America's leading personal branding expert. He heads Platform Strategy, a branding and publicity boutique. His new book Fame 101 (http://www.fame101book.com) profiles 75 most-notable personal brands, ranging from Suze Orman to President Obama, to distill a common success formula. It's the playbook for anyone to join the elite 1% of their profession. Sample chapter, author bio, and more information at http://www.fame101book.com
###