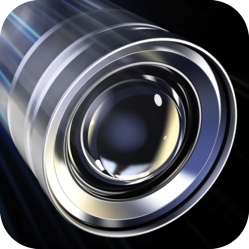 We're making FAST CAMERA available free for one day to further accelerate our four-million user-base.
Phoenix, AZ (PRWEB) February 14, 2013
FAST CAMERA (regularly $1.99) features incredibly fast image capturing technology with a photo frame rate of nearly 1,000 pictures a minute. Normally that would be a lot of images to click through for iPhone, iPad and iPod touch users, but FAST CAMERA's quick preview screen enables users to quickly review hundreds of photos then export only the best to their camera roll. Users can also export any number of high-resolution photos as a video or slideshow.
Version 5.0 also boasts several new features including a significantly faster Review Screen, Portrait Video Export, and Direct Export to Cinemagram™. The new API integration with Cinemagram allows users of both apps to create higher-quality cinemagraphs (cines) from still photo sequences faster than any other method.
In addition to FAST CAMERA's obvious appeal of snapping high-resolution photos very quickly, it also offers an interval feature that allows users to make stop-action animations and time-lapses quickly with minimal effort. The app's timer function, along with the auto-interval function allows couples and families to get quality photos at events and special occasions, or while on vacation. Manual control features allow users to lock Focus, Exposure, and White Balance points for consistent image sequences.
Michael Zaletel, i4software CEO says, "We're making FAST CAMERA available free for one day to further accelerate our four-million user-base. Cinemagram integration is a big win for everyone because the highest-quality cines start with high-resolution still photo sequences rather than compressed video. We will continue to innovate and invent new products and technologies to deliver the best experiences in both stills and videos."
i4software's FAST CAMERA app, famous in it's own right, recently made history from space when it was used in automatic timer-interval mode to photograph elliptical images captured from the Earth's stratosphere by the German team of PC Games Hardware and Cooler Master.
"Our concept has proven to be popular among both developers and users," said Chloé Delcroix, Publishing Manager at AppGratis. "Both small developers and big publishers are able to boost their downloads by sharing their apps with over 10 million AppGratis users. With a fast-growing user base, we take pride in only offering the highest quality apps out there, and we are excited to work with i4software and offer FAST CAMERA for free on Friday, the 15th."
Demo video available at http://vimeo.com/37705672
About i4software®
i4software was established in 1999 with a focus on the development of simple, yet powerful applications. Among the most notable i4software applications are FLASHLIGHT, FAST CAMERA, and Video Camera apps. The international i4software development team includes members with backgrounds in developing video, utility, educational, entertainment and game applications which are distributed worldwide. For more information about i4software®
About AppGratis™
AppGratis was founded in 2011 by Simon Dawlat from a daily email newsletter shared among friends featuring his top app picks. AppGratis has since grown and is establishing itself as the global leader in mobile app discovery. With nearly 3 million unique daily visitors, AppGratis is becoming the premier free app service that focuses on entertainment and productivity apps, as well as games.
Press Contacts:
i4software Media Contact
Michael Zaletel
CEO i4Software
480.444.9759
press(at)i4software(dot)com
AppGratis Media Contact
Rich Jones, TriplePoint for AppGratis
rjones(at)triplepointpr(dot)com
212.730.9744
i4software® name, design and related marks are trademarks of i4software © 2013. All rights reserved. © 2013 i4software. iTunes, iPad, iPhone and iPod are trademarks of Apple, Inc. AppGratis is a trademark of iMediapp SAS. All rights reserved.
###