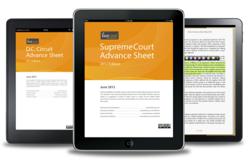 Fastcase's eBooks are available for the world's most disruptive price: free.
Washington, DC (PRWEB) July 23, 2012
For more than a century, lawyers and judges got their first look at the law through paper advance sheets, a draft version that comes out weeks or months before hard-bound law books. Today begins a new chapter, as legal publisher Fastcase launches its collection of eBook Advance Sheets.
Fastcase's eBook Advance Sheets collect judicial opinions from state Supreme Courts and Courts of Appeal, with a new book for each state each month. The service also will cover the U.S. Supreme Court and Federal Circuit Courts of Appeal. The books begin with short summaries of judicial opinions that are included, with hyperlinks to the opinions in the book.
The eBooks are formatted for the major eReaders: iPad, Kindle, Android, and Nook. They replace heavy, clunky, expensive paper volumes (which often cost as much as $850 per jurisdiction), and Fastcase's eBooks are available for the world's most disruptive price: free.
In addition to the disruptive price, Fastcase's Advance Sheets will also be more comprehensive than their print predecessors. Unlike paper volumes, Fastcase's eBook Advance Sheets will contain judicial opinions marked for publication, but also so-called "unpublished" opinions not designated for publication in the paper print volumes (but which are precedential in many courts, and often contain persuasive authority).
"We collect the judicial opinions daily for the Fastcase legal research system," said Ed Walters, Fastcase CEO. "So it is almost cost-free for us to publish them monthly in eBook format. The books are beautiful, you can mark them up, cut and paste text, or share passages, so they're more functional in some ways than paper books. And if we can reduce the environmental footprint of law, we all come out ahead."
The Fastcase eBook collection allows the user functionality for on iPads, tablets, and eReaders that was not previously available – text can be highlighted, copied, shared, annotated, rotated, and users can search for key terms including the text of the introductory summaries highlighting the issues in each case. And unlike paper books, users can search Fastcase eBooks for key terms, or the names of clients.
The books will be licensed under a Creative Commons Attribution-Share Alike 3.0 license, since all of the works contained are public domain works of the government.
The collection launched last week with decisions of the following courts: Texas, Florida, Illinois, California, New York, the D.C. Circuit, and U.S. Supreme Court. The collection includes books for every month in 2012, and will soon include Advance Sheets for all 50 states and federal circuits. Fastcase Advance Sheets are available for free download at http://www.fastcase.com/ebooks.
Fastcase, founded by two former lawyers on a mission to democratize the law, has been disrupting the legal publishing market with smarter tools for legal research since 1999. From the visionary and innovative way of using algorithms and smarter technology to research and look at the law, to building new platforms that challenge the "old way of doing legal research", Fastcase has grown a following of over 500,000 subscribers from around the world and is currently affiliated with a growing number of AmLaw 250 law firms, 22 state bar associations, dozens of voluntary bar associations and law schools across the country. In recent years, Fastcase has led the industry as a leader in mobile research (according to 2011 ABA Technology Survey).
In 2010, Fastcase was the first company to launch an app for legal research, and later, the first company to launch an app for iPad. The American Association of Law Libraries named Fastcase for iPhone the 2010 New Product of the Year. In 2011, Rocket Matter named Fastcase's apps for iPhone and iPad the Legal Productivity App of the Year and the company furthered its mobile market presence by debuting the Fastcase for Android app last month. Lawyers on the go appreciate Fastcase Mobile Sync, which allows full integration of its mobile apps with the desktop version of Fastcase.
Fastcase has gained very strong momentum in the legal research market and continues to challenge the norm in legal publishing and legal technology. Fastcase was voted #1 in Law Technology News's inaugural Customer Satisfaction Survey, finishing first in 7 out of 10 categories over traditional research providers Westlaw and LexisNexis. Fastcase has introduced new opinion summaries, Fastcase Cloud Printing, and has been named to the prestigious EContent 100 list of leading digital publishing and media companies alongside Google, Amazon, Apple and Facebook for two years in a row.
For more information, visit http://www.fastcase.com.
About Fastcase
As the smarter alternative for legal research, Fastcase democratizes the law, making it more accessible to more people. Using patented software that combines the best of legal research with the best of Web search, Fastcase helps busy users sift through the clutter, ranking the best cases first and enabling the re-sorting of results to find answers fast. Founded in 1999, Fastcase has more than 500,000 subscribers from around the world. Fastcase is an American company based in Washington, D.C. For more information, follow Fastcase on Twitter at @Fastcase, or visit http://www.fastcase.com.