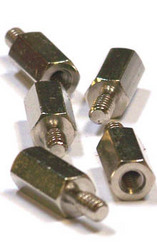 Fastener SuperStore makes it simple, quick, and hassle-free for businesses to order fasteners online.
Downers Grove, IL (PRWEB) February 17, 2010
Online fastener distributor Fastener SuperStore experienced strong growth in 2009 with sales up almost 10% vs. 2008. These strong results come despite reports that up to 80% of companies within the fastener industry were struggling through the economic downturn.
2009 continued a streak of substantial growth for Fastener SuperStore as sales have increased more than 300% over the past three years. The positive trend has continued into 2010; sales in January 2010 were the best in the company's history, and reflected a 51% increase over January 2009.
"I credit our strong growth to three primary elements of our business model," said Greg Fields, Fastener SuperStore President, from their Downers Grove, Illinois headquarters. "1) An intuitive, web-based ordering process; 2) Same day shipping on up to 98% of our orders; and 3) Friendly, knowledgeable customer service. The bottom line - Fastener SuperStore makes it simple, quick, and hassle-free for businesses to order fasteners online."
Fields reports that Fastener SuperStore was able to increase market share by delving into new markets that they had not fully engaged previously, such as High-Tech & Electronics, where products such as spacers, standoffs and cage nuts have become strong sellers. Fastener SuperStore now offers a full line of Electronic Hardware, bringing their total number of stock parts to more than 30,000.
In February, Fastener SuperStore opened an office in Camarillo, CA in order to improve service to the western U.S., and also to provide extended business hours. The office will be headed by Jeff Estoppey, who comes to Fastener SuperStore from Harbor Freight Tools, where he worked on supply-chain solutions for the past seven years.
Fastener SuperStore is a privately owned fastener distributor headquartered in Downers Grove, Illinois, specializing in supporting the fastener needs of small to medium sized businesses. Fastener SuperStore has been operating since 1997.
###