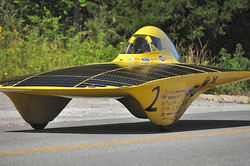 This marks the third consecutive first place ASC win for the University of Michigan team.
Middletown, DE (PRWEB) September 1, 2010
The White House Office of Science and Technology Policy recognized the University of Michigan Solar Car Team for winning the 2010 American Solar Challenge (ASC). Sustainable sources of energy, such as solar power, are good for the environment. Helping to harness that energy and put it to work efficiently is the job of the Solar Car Team at the University of Michigan. The purpose of the student-run organization is to "design, finance, build, and race a solar-powered vehicle in competitions around North America and the world."
One of 13 teams to compete in the weeklong, 1,100 mile cross-country time/distance rally event from Broken Arrow, OK, to Naperville, IL, the University of Michigan's car, Infinium, completed the event with a total elapsed time of 28 hours 14 minutes—2 hours 12 minutes ahead of the second place winner. This marks the third consecutive first place ASC win for the University of Michigan team.
Not wanting to rest on their laurels, the aerodynamics division of the team recently completed wind tunnel testing to better understand airflow properties of Infinium. Valuable data gleaned from that testing will be used to improve performance of future designs. "We did a very thorough analysis and we strongly feel that there is significant room for improvement," said Robert Forsyth, a junior in Aerospace Engineering.
FastenerMart.com is proud to be a sponsor of this winning team. "We're a proponent of green energy and fully encourage its development and use," explains Dennis Martin, Vice President of FastenerMart.com. "We support the exciting work this fine team is doing by supplying FLEXLOC® nuts, which are necessary for Infinium to meet ASC Regulations." FLEXLOC® nuts, made in the USA by SPS Technologies, are regarded as one of the best locknuts available in the industry.
FastenerMart.com is your source for 28,000 different bolts, screws, washers, nuts, metric fasteners, anchors, clamps, pins, rings, rivets, rods and more. Materials include steel, stainless steel, brass, silicon bronze, aluminum and nylon; platings include zinc and hot dip galvanized. Low prices, volume discounts, and fast service are conveniently available online at http://www.fastenermart.com/.
# # #