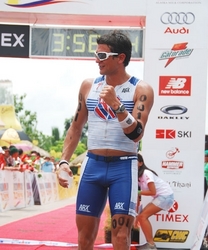 I am honored to be working with the Faster Tomorrow team and their flagship product ARX
Potomac, MD (Vocus) August 26, 2009 -—
Faster Tomorrow, a division of Healthy Directions, is proud to announce Terenzo Bozzone's exciting victory at the Cobra Philippines Ironman 70.3, his last stop before tackling the Ironman World Championships in Kona. Terenzo finished the 1.2 mile swim in second place and kept the pressure on during the 56-mile bike. He ran shoulder-to-shoulder with Ironman World Champion Chris McMormack during the 13-mile run, but was able to shake him at the end to win with a time of 3:51:25.
"I had a hard time at the swim part of the race. Everyone was really pushing the pace. In the bike portion Cam (Cameron Brown) almost broke away and we had to catch up to him. In the run part Macca (McCormack) started like he was in a 15-kilometer run. But once I got into a rhythm everything was OK." Bozzone has been using Faster Tomorrow's flagship product, ARX, since last September, just weeks before he won the 2008 Ironman 70.3 World Championship. This is the latest in a host of victories for Bozzone in 2009.
ARX is a unique, proprietary blend of all-natural ingredients proven to increase endurance and shorten recovery time. The results of human clinical studies demonstrate ARX effectively shuttles lactate from muscles during endurance athletics such as running and cycling. By sweeping lactate into the bloodstream, and through the liver where it's converted to glycogen, ARX helps supply the muscles with a preferred form of fuel, increasing endurance and stamina and accelerating post-exercise recovery.
"I am honored to be working with the Faster Tomorrow team and their flagship product ARX," says Bozzone. "For me, the difference between winning and a back seat in the top 10 is how fast I can recover from hard training. The faster I can recover, the more key workouts I can hit in a training block. ARX helps boost my performance and speed up my recovery time."
Healthy Directions President Ed Hauck says, "Terenzo is an incredibly hard-working and gifted athlete. We are proud that he credits ARX with helping him in his recent string of victories, and look forward to cheering him on at Ironman Kona in October."
About Faster Tomorrow
Faster Tomorrow is dedicated to helping endurance athletes of all ages reach peak performance through science and nutrition. With the right tools, you can feed your body, prime your muscles, and always be ready to train hard and excel at the sports you love. As a part of Healthy Directions, the Faster Tomorrow team bring over 15 years experience developing carefully formulated, science-based natural products. Their advice has helped millions take control of their health, on their own terms, and their products make living healthier, more vibrant lives not just a goal, but a reality. For more information, visit http://www.fastertomorrow.com .
About Healthy Directions, LLC
Healthy Directions, LLC, is the recognized leader in providing authoritative health and wellness solutions to consumers. Healthy Directions' subsidiary, Doctors' Preferred, LLC, is a leading vitamin and nutritional supplement business that develops and sells proprietary, branded nutritional supplements based upon the research of the Healthy Directions health experts. For more information on Healthy Directions, please visit http://www.healthydirections.com.
###