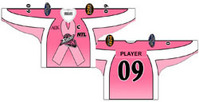 Brookline, Massachusetts (Vocus) October 30, 2009
Live Broadcast Benefits Breast Cancer foundation
FASTHockey announced today the live broadcast of the first annual Walpole Express Pink Game To Benefit The Avon Foundation for Breast Cancer. The game will be professionally produced by FASTHockey production staff and 100% of all PPV revenues will be donated to the cause.
The game will take place at the Iorio Arena in Walpole, MA on Sunday, November 1st at 1:00pm when the team hosts the Hartford Junior Wolfpack in a regular season AJHL match-up. All proceeds from the game will go to the Avon Foundation for Breast Cancer in honor of Amy O'Connell Keith.
The name of the game is Amy's initials. She is a sister, wife, mother of three, and friend of hockey players. She is a 38 year old resident of Westwood, MA who was diagnosed with Stage II, Grade 3 Invasive Ductal Carcinoma (breast cancer). She currently has completed her chemotherapy treatments and undergone a lumpectomy. Amy's walk team for the Avon Foundation Breast Cancer 2-day walk is the 2nd largest team of walkers, with over 30 walkers.
The goal is to raise breast cancer awareness and donate money in support of the Avon Foundation and their commitment to improve lives of women and their families.
On the ice, our players and refs be wearing special pink jerseys. Off the ice, you will be given the chance to own one of these unique game worn jerseys through a silent auction. There will also be raffles that will allow you to win gift certificates to most of your favorite local establishments. Remember, all proceeds from the jersey auctions, raffles and game admission ($5) will be donated to the Avon Foundation.
About FASTHockey
FASTHockey (http://www.FASTHockey.com) is the premier online destination to see live streaming video of amateur ice hockey games from across North America. The feature rich platform is frequented by scouts, recruiters, coaches, players, parents, and fans from around the world. Hockey fans can not only see live and archived games, but also build robust profiles, research and track teams, get updates on recent scores & news, and monitor college commitments.
###