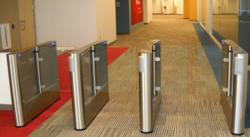 In addition to enhancing security, Fastlane optical turnstiles give tenants and employees a better experience with regards to building access—and all for a net lower cost compared to man-powered access control."
Austin, TX (PRWEB) July 24, 2012
Smarter Security, Inc., provider of premium, innovative entrance control and outdoor security solutions, today announced that the company's Fastlane optical turnstiles were selected as a 2012 Money-Saving Product in BUILDINGS magazine. The market-leading entry control solution for building lobbies was part of an elite group of more than 70 products that were recently showcased in the magazine.
"We're pleased that our Fastlane turnstiles have been recognized as a solution building managers can utilize to help impact their bottom lines," said Jeff Brown, CEO of Smarter Security. "Our mission is to help customers better secure their corporate facilities, the buildings they manage, and, most importantly, people. In addition to enhancing security, Fastlane optical turnstiles give tenants and employees a better experience with regards to building access—and all for a net lower cost compared to man-powered access control."
Fastlane optical turnstiles from Smarter Security automate building lobby security by performing the access control function which is sometimes handled by security officers. Intelligent Fastlane turnstiles are more accurate than humans in verifying individuals and detecting violators, and can also process much higher volumes of traffic. The initial capital investment improves security on an ongoing basis and reduces operating expenses since fewer paid security officers are needed in the lobby, leading to a quick payback period and a high return on investment. The reliability and durability of Smarter Security's Fastlane turnstiles also enable customers to experience cost savings because they reduce the need for service calls and product maintenance, and minimize the need to hire temporary guards to make up for malfunctioning units.
Smarter Security offers a wide range of Fastlane optical turnstiles, including models with glass barriers, metal barrier arms, and no barriers for a more inviting look. All of the company's turnstile models combine elegant aesthetics and sleek form factors with intelligent optical technology that delivers high alarm accuracy and fast throughput. The latest turnstile innovation from Smarter Security is Fastlane Connect™ IP capability, which will provide additional savings for buildings by helping to lower operating and support costs.
BUILDINGS magazine editors annually review the marketplace for the best budget-friendly products. In addition to Smarter Security's Fastlane turnstiles, the 2012 edition includes a wide range of solutions used by buildings such as sensor faucets, roof leak diverters, and analog LED lighting controllers. Finalists were based on the money-saving qualities offered to building owners and facility managers in areas such as energy consumption, water savings, lighting, envelope improvement, and maintenance. The full list with descriptions and photos is available on the BUILDINGS magazine website.
About Smarter Security, Inc.
Smarter Security provides premium and innovative entrance control and outdoor security solutions to help organizations protect their people and assets in a world of ever-present threats. Since 1992, Smarter Security has offered Fastlane turnstiles, the most elegant and intelligent optical turnstiles available, which protect thousands of commercial and governmental lobbies on six continents. Smarter Security also offers perimeter intrusion detection systems, including SmarterFence, a fiber optic fence-mounted sensor. For more information, please visit http://www.smartersecurity.com.
# # #