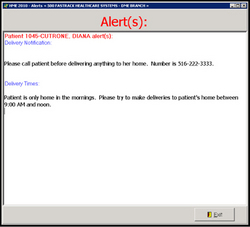 Fastrack Version 2010 will demonstrate our on-going commitment to reducing operating costs and improving productivity of our client's operation.
Plainview, NY (Vocus) February 13, 2010
Fastrack Healthcare Systems, Inc. announced today the availability of a new version of the software and technology leader's Enterprise System for HME, Infusion Pharmacy and Home Care Agencies. Version 2010 includes over a hundred new features in virtually every aspect of the Fastrack System.
According to Spencer Kay, President of Fastrack, "Fastrack Version 2010 will demonstrate our on-going commitment to reducing operating costs and improving productivity of our client's operation." Kay points to a key example with their new Alerts functionality. Clients can enter alerts for patients, wholesale accounts, facilities, referral sources and payors with specific messages for each that will automatically pop-up in key areas of the system including order entry, order confirmation, RX and referrals.
"Certain significant uses of this feature would be; an alert for a particular patient with special needs that customer service must be aware of, or to verify their insurance information, etc. An insurance company alert might include the payors unique requirements, or to avoid the potential of losing an unhappy referral source an alert might appear to make sure their patients are handled with special treatment. These are just a sample of the possible benefits of this feature," added Kay. Since this feature is available based on different criteria it is possible to have multiple alerts per patient that would appear combined in the pop-up window.
In order to track and manage workflow better, Fastrack has added additional capabilities to assign users to tasks in billing, the management of the CMN/SMN process and other operational areas. This feature includes full reporting for management to see who is assigned to the task.
Fastrack has released a newly revised Workers Compensation Module that keeps track of case managers and adjusters, accident and benefits information, provides for multiple contracts with extensive fee capabilities and offers the ability to automate the drop shipping of products with their full On-Line (EDI) purchasing.
Additional features found in Fastrack 2010 includes: form templates for purchase orders, physician orders, POS receipts, prior approvals and the CMS 1500 have been added to their library of forms that providers can customize to meet specific needs with the Fastrack Forms Generator. The new release also includes a direct access to the Fastrack On-Line Training System from every workstation and faster access to on-line user documentation with added search criteria. Enhancements were added to the employee/patient scheduling, the 485 for clinical users and the General Ledger interface. The Home Care Agency System was updated to the new OASIS-C questions.
A new "cube" has been added to the Fastrack Business Intelligence/Data Mining tool that will analyze orders by physician. This helps management and sales to see the quantity and dollar value of business coming from a particular physician with the intent to help providers understand where the business is coming from. The company has also added new metrics to the Fastrack Scoreboard designed to provide real-time statistics on the provider's company performance.
Fastrack is the leading provider of software & technology to Home Medical Equipment, Durable Medical Equipment, Respiratory Providers, Home infusion Pharmacies & Home Healthcare Agencies. Only Fastrack offers a solution for each individual segment of Home Care as well as one system encompassing virtually every clinical, operational and financial aspect of a provider offering several or all of these product/service lines within one integrated Microsoft SQL database. For further information contact FASTRACK Healthcare Systems, Inc. 255 Executive Drive, Plainview, N.Y. 11803; 1-800-520-2325, fax: 516-349-8875, or e-mail them at: info (at) fastrk (dot) com or visit their Website: http://www.onlyfastrack.com.
# # #