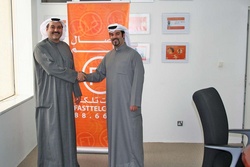 We are confident that FASTtelco will continue to provide new and unique services, thus maintaining its pioneer position, reflecting its eminent quality and prominent management
KUWAIT (PRWEB) January 27, 2008
Mr. Al-Nakib said "we are proud of this transaction which enhances our position as a major shareholder in FASTtelco, whereby Al-Deera International Communications Company enters as a major shareholder in FASTtelco by acquiring an influencing equity position of 39%, at KD 6.240, making FASTtelco another success story to Al Deera international Communications company investments in addition to its exciting portfolio of local and international companies which includes Aiwagulf, BPL Global and Seamobile.
Mr. Al-Nakib added, "The growing regional indicators of the communications sector and FASTtelco's solid market position and high quality management team were the driving force behind our substantial investment. The acquiring of an influencing equity position in FASTtelco; one of the local pioneer companies in this line of business, shall be another successful investment in the portfolio of Al-Deera International Communications Company, who specializes in communication and technology investments on local and international levels".
"We are confident that FASTtelco will continue to provide new and unique services, thus maintaining its pioneer position, reflecting its eminent quality and prominent management", Mr. Al- Nakib added.
Al-Deera International Communication Company will be represented on the board of directors of FASTtelco, which is comprised of seven members, by Mr. Abdulwahab Ahmad Al- Nakib, Mr. Talal Bader Al-Bahar, Mr. Khaled Magdy El-Marsafy and Mrs. Maha Abdulkarim Abbas.
Mr. Saud Abdulaziz Al-Ghanim, the Managing Director of FASTtelco said "We are delighted to have Al-Deera with us, we deem this transaction a significant and imperative step, due to the positive outgrowth of this partnership for both FASTtelco and Al-Deera. We are also confident that the entry of a strategic partner such as Al-Deera is considered as an element of support to us, based on its expertise and global strategic relations. This signifies an added value to us for the purpose of achieving our expansion plans and future strategies".
Mr. Khaled Magdy El-Marsafy, General Manager of Al Deera Holding Company said "This transaction comes as a result of comprehensive due diligence on the sector and on FASTtelco's and its competitive market positioning. As usual, we have conducted months of research and analysis and ultimately have been convinced of the strong and leading position that FASTtelco currently holds in its market amongst its peers, and of its genuine positive growth outlook. Accordingly, we are pleased to go forward with this investment, which should result in positive returns for both companies on the short and long run".
FASTtelco is one of the first entirely Kuwaiti owned shareholding companies working in the internet and data communication fields. It is specialized in providing turnkey internet, local and international data communication solutions as well as local and international termination services for foreign carriers.
Moreover, FASTtelco owns the biggest two communication ground stations in the Middle East, and is thus able to provide the fastest & most resilient backbone network in the Middle East.
Accordingly, FASTtelco aspires to be the best internet & networking services provider on the local level, by means of providing electronic trade (e-trade) services, electronic government, electronic education, as well as a salient package of services provided on both retail and corporate levels.
The Deal between Al Deera International Communication, Al Amanah and FASTtelco was arranged by Univest Group, a pioneer in the regional financial consulting field that has succeeded to carve its name on several salient transactions by means of seizing prominent opportunities in the local and global markets. Worth mentioning, Univest Group succeeded during the last few years to accomplish a record of successful transactions and investments worth over US$ 420 Million by acquiring equity and strategic partnerships in global and regional leading companies, such as the Chart Group, US Helicopter, BPL Global, Seamobile, Yotel, Aiwa Gulf, Al-Khat Printing Press, Kuwait National Lubricant Oil Company, Warba Press & Publishing Company, as well as Ithmar Capital in Dubai among other numerous companies.
Mr. Al-Nakib concluded saying "at Al-Deera Communications we seek excellence via seizing investment opportunities which enable us to be a leader in the communications and technological sectors. Such accomplishments compliment the strategic plans of Al-Deera Holding Company, whose outcomes will deliver positive growth through harvesting profits which the company will witness in the year 2008".
About AL-Deera Holding Company
Established in 1998, Al-Deera Holding is a Kuwaiti shareholding company (Ticker: ALDEERA), listed on the Kuwaiti Stock Exchange since 2005, Al-Deera Holding Company is considered as one of the leading companies in its line of business. The Company focuses on investment in private and public companies which witness strong growth.
Since its inception, ALDEERA has adopted a balanced expansion strategy that allowed for mitigating risk, while maximizing investment return. By maintaining a diversified portfolio - both in terms of the geographical and industrial distribution of investments - the company has been able to maintain steady growth in its net profits; as a result of such a strategy.
ALDEERA's investments have also focused on building alliances and strategic partnerships that allow for developing the company's competitive edge especially in as far as competing for top-tier business opportunities is concerned.
About FASTtelco
FAST Telecommunication Company is the leading Telecom Service provider in Kuwait. FASTtelco specialize in providing turnkey Internet, local and international data communication solutions as well as local and international termination services for foreign carriers. FASTtelco has implemented the most resilient backbone network in the local market. This unique network covers the entire State of Kuwait and is co-located in all Ministry of Communication's local exchanges. This has enabled FASTtelco to cater for various modes of Data and Voice communication requirements of small, medium and large organizations as well as the consumer sector. FASTtelco became one of the first Telecommunication Companies to be awarded the prestigious Cisco Powered Network (CPN) in the entire Middle East. FASTtelco was the first telecommunication company to implement a Class A satellite station. FASTtelco was the first telecommunication company to introduce WiMAX technology in the region.
About Univest Group
Univest Group is a multi-disciplined financial consulting firm. The four main Business lines of Univest Group are: Private Equity, Corporate Finance Advisory, Research and Asset Management. It has established fast growing, leading practices in these fields.
Univest is a sister company of AlDeera holding (Ticker:ALDEERA) a Kuwaiti holding company listed on the Kuwait Stock Exchange and a member of the globally recognized International Financial Advisor (IFA) consortium.
By building alliances and encouraging synergies, Univest has been able to offer high net worth individuals and institutions unique investment opportunities, in depth research and valuable financial advice.
Since its inception in the year 2001, Univest Group has identified and successfully completed deals worth more than USD 420 million covering a wide range of sectors.