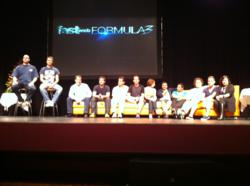 The strategies that were shared by James, and his niche experts, were cutting-edge. In many cases they were yet to be shared with others in the internet marketing world
Sunshine Coast, Australia (PRWEB) October 31, 2011
From October 28-30, 2011, James Schramko, widely regarded as one of the most genuine and strategic internet marketers in the world, conducted the third in his Fast Web Formula series of training events - the only one for 2011. According to the event coordinator, Kerry Finch, many factors combined to make this one so very successful.
"Many of those present had either attended James' Fast Web Formula, Fast Web Formula 2 or one of his earlier workshops -- so they were building on a solid foundation." said Ms Finch. "Because of this they were perfectly placed to identify how these new learnings could be applied to their current businesses."
The Fast Web Formula events are known for the delivery of emerging trends and analysis of new tools for growing online businesses. Guest presenters are chosen by Schramko for their expertise in very specific areas, and all have one thing in common - they are the real trendsetters in their fields.
"The strategies that were shared by James, and his niche experts, were cutting-edge. In many cases they were yet to be shared with others in the internet marketing world," explained Ms Finch.
Participants traveled to Australia from the US, Canada, the UK, Singapore, Switzerland and the United Arab Emirates to attend FastWebFormula 3. They created what Ms Finch described as a 'dynamic networking environment' -- an opportunity for them to meet face to face to celebrate their successes and seek guidance on any challenges they face.
Niche experts included:
> Leanne King, known as WPQueen for her intimate knowledge of the Wordpress CMS. She created a live website build from stage in just minutes, using a plugin that awed the audience.
> Google Adwords expert Mike Rhodes, who dispelled many of the PPC myths and identified Adwords best practices
> The SuperAffiliateGuy, Andy G, who traveled from Switzerland to reveal some of the strategies he currently uses to test and measure his campaigns
> Jennifer Sheahan, from FBAdsLab, who cut through the myths and misconceptions about facebook marketing - a little controversial in parts
"Of course, for many the highlights were the James Schramko sessions" said Ms Finch. "James revealed his new Mafia Plan, showed the tools he was now using to streamline his business, and discussed and demonstrated how he tests and measures every facet of his hugely successful online business."
Acknowledging that not everyone was in a position to travel to Australia for FastWebFormula3, Schramko had the full three day event filmed, and the digital download is now available for pre-order at http://www.fastwebformulas.com
About James Schramko
James Schramko is a Sydney based Internet Marketer who has mastered and applies the essential skills needed to be a success online. He continues to develop his suite information products and automated profit systems, in so doing indulging his passion for product development and mentoring students in high-level and ethical internet marketing. His most recent training event was held 27-30 October 2011, in Queensland, Australia. The digital recordings of this event are available at http://www.fastwebformulas.com
###